'Staggering' increase in festive period ambulance calls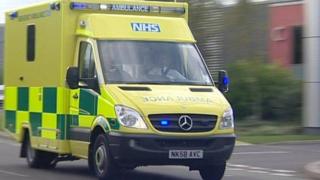 There was a "staggering" 49% increase in calls during the Christmas period, the North East Ambulance Service (NEAS) has said.
Between 23 December and Boxing Day it answered more than 24,500 999 and 111 calls, compared with 16,400 over the same four days in 2016.
Many of the 111 calls were from patients wanting a repeat prescription.
NEAS said it was experiencing "severe pressure" and asked people only to dial 999 for medical emergencies.
Douglas McDougall, strategic head of operations, said: "Your call could potentially delay our response to someone else who might need us more.
"Please think before you pick up the phone; do you really need to go to hospital and if you do, is there anyone else who can take you?
"Turning up to hospital in an ambulance does not mean you will be seen any quicker."