Royal Navy sailor has Canada sex charge dropped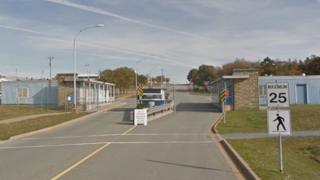 One of three Royal Navy sailors accused of taking part in a group sex attack on a woman in Canada has had the charges against him dropped.
Joshua Finbow, 26, was charged with sexually assaulting a woman in Nova Scotia in April 2015.
A Canadian judge ruled Mr Finbow's rights were violated by an 80-minute delay before he could consult a lawyer.
The remaining suspects, Darren Smalley, 38, and Simon Radford, 33, are due to go on trial in Canada in September.
The men were charged with taking part as a group and also with causing bodily harm to a woman civilian in barracks at the Canadian air base at Shearwater near Halifax.
'Extraordinary errors'
The three sailors were in the country to represent the Royal Navy in a hockey tournament.
A fourth member of the team, Craig Stoner, 27, was also arrested but the charges against him were later dropped.
In his ruling at the Supreme Court of Nova Scotia on 14 December, Judge Patrick Duncan said military police had made "extraordinary errors" in failing to give Mr Finbow "immediate" access to counsel.
He said investigators had also violated the accused's right to privacy while consulting a lawyer.
He said the serviceman could hear officers in a neighbouring room questioning Mr Stoner in an "aggressive and intimidating" manner.
Prosecutors withdrew charges against Mr Finbow, from Broughton, Hampshire, after the judge ruled his statement to police should be excluded from evidence in the case.