Jill Saward's husband hopes charity will continue her work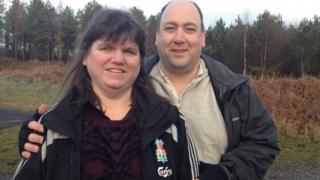 More than £20,000 has been donated to continue the work of rape campaigner Jill Saward, her husband said.
Ms Saward, 51, who became a victims' rights campaigner after being raped at her father's Ealing vicarage in 1986, died a year ago following a stroke.
Her husband, Gavin Drake, told the BBC he hoped a charity would be launched this year.
In a blog, he said 2017 was his "own personal annus horribilis", but he was looking forward "with a positive mind".
Ms Saward, who lived in Hednesford, Staffordshire, was 21 when she was raped during a burglary at the vicarage.
She was sexually assaulted by two men, and her father and her boyfriend at the time were severely beaten.
Mr Drake said it was "fantastic" that £22,500 had been raised, £25,000 including Gift Aid.
The charity would continue Ms Saward's work campaigning and speaking out on behalf of victims of sexual violence, he said.
Mr Drake said: "It's a crime that hits victims at the core of their being. Unless proper support is given, people can be destroyed for years into the future.
"Jill was an authoritative independent voice that couldn't be ignored."
In his blog, Mr Drake said he was "in the middle of a difficult few weeks" with the first anniversary of her death on Friday, her birthday next week and Christmas.
He said people "who knew Jilly know how important Christmas was for her".
Mr Drake, a journalist, said there had been "entire months" last year when he "did no work at all - just one regular column" and "couldn't face doing anything more".
But he pointed out "the love, the care, and the compassion" shown to him by family, friends and "even strangers".