Southern Water seeks drought permit to top up Bewl Water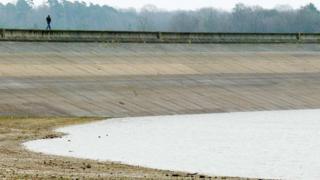 Southern Water has applied for a "precautionary" drought permit to pump water into the Bewl Water reservoir.
It said there had been "exceptionally low rainfall" during the winter of 2016-17 and last October and November and it needed to safeguard supplies.
The reservoir, near Lamberhurst, provides water to hundreds of thousands of people across Kent and East Sussex.
It holds less than 43% of its 31,000 million litre capacity and would take water from the rivers Medway and Teise.
Live: More news from across the South East
Southern Water last applied to the Environment Agency for a drought permit in 2012.
The company said abstracting more water from the rivers would be a short-term measure to secure supplies as the permit would only be valid until the end of March.
"We are applying for the permit now because taking water in winter is less likely to have any environmental impact, compared to the summer," it said.
The drought permit would reduce the risk of needing to introduce temporary restrictions on people's water use over the coming summer.