Holloway Prison site to be 50% 'genuinely affordable', council rules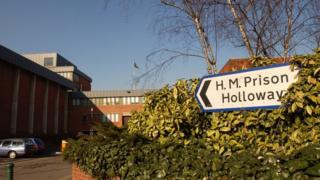 A 10-acre site near central London must include at least 50% "genuinely" affordable homes, a council has ruled.
The Ministry of Justice (MoJ) owns the estate, home to the former Holloway Prison, and is looking for developers to buy it.
Islington Council said it would only back plans that hit that target and included a "safe space" for women.
Campaigners have welcomed the move but fear developers will be able to "water down" the plans.
The site of Holloway Prison, which was closed in 2016, will house up to 900 new homes, according to a supplementary planning document adopted by Islington Council on Thursday night.
The document states the affordable homes target is "viable" and notes that the MoJ's need to "maximise return" will "not justify" a failure to meet it.
Councillor Diarmaid Ward, the authority's executive member for housing and development, said London's housing crisis had been "beyond critical for far too long" and there was a "desperate need for genuinely affordable housing to help people in very difficult circumstances".
'Watered down'
Maureen Mansfield, member of campaign group Reclaim Holloway, said the council was sending a "strong message" but the "real fight will be when a developer comes into the picture".
By that point, she added, "it will be a negotiation and the concern is that it will get watered down".
The document also says any new development should include a women's building or centre. More than 5,500 people have previously signed a petition calling for such an institution.
Bidding for the site is now closed and the MoJ expects to announce the winner in the spring.
It said the exact nature of the provision of affordable housing would be determined by the purchaser working with the local authority and within the planning system.