Gender pay gap: Charity questions accuracy of data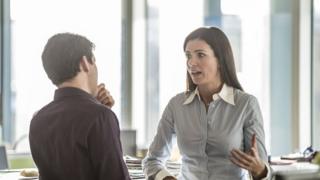 Gender pay gap figures reported by some firms have been called into question, prompting concerns about "fake data" from campaigners.
In response to new rules requiring businesses to publish pay figures, a number claimed to have 50% male and 50% female staff.
The government said this was "statistically improbable" and called on firms to check their information.
The Fawcett Society called for a clampdown on potential "fake data".
Companies with 250 or more workers will have to calculate their gender pay gap and publish it on a government website.
About 9,000 employers have to publish their data by 4 April 2018, or 30 March for the public sector.
So far about 750, including the BBC, have done so.
Two dozen companies say they have a gender pay gap of zero, with 10 of them claiming that precisely 50% of lower, middle, upper and higher wage earners are female and 50% are male.
Catharine Clark, from Finchley-based Fore Street Employment Agency, one of the companies that reported absolute equality, said: "I don't think we've filled this out right and we are going to look at it again. Although we're not wrong in saying we have no gender pay gap."
A Khan Ltd, which is the franchise holder for McDonald's in Newcastle's Northumberland Street, is another of the companies reporting a 0% gap.
A spokeswoman said the figures were "entered in error" because numbers had to be added to complete the registration for the government system.
She said McDonald's themselves would be providing the correct figures as they use their payroll for staff. McDonald's said the figures "are in the process of being updated".
What is the gender pay gap where you are?
'Missed opportunity'
Andrew Bazeley, from the Fawcett Society, said: "The gender pay gap reporting deadline in April is a vital moment for businesses to look at their pay data, correct pay discrimination where it exists, and take action to reduce the gap overall.
"But it looks like some of these businesses have missed that opportunity. It's possible that we are looking at fake data in some cases.
"The government needs to act urgently and give the Equality and Human Rights Commission the power and resources to effectively crack down on businesses who don't comply with the law."
Anthony Horrigan, from workforce analytics company Staffmetrix, said: "Companies with modern data-collection processes will find this easier. Some companies will have some of their data, such as the payroll, on one system and other data on different systems. However, everyone has to get on and do this."
A Government Equalities Office spokesman said the department would be following up with employers where "statistically improbable data has been reported" to help them get it right.
He added: "Employers have until 4 April 2018, or 30 March 2018 for the public sector, to report their gender pay gap. They must also ensure that the information they publish is accurate. This is not an option, it is the law, so they need to get on and do it.
"Any evidence that employers are breaching the law can be investigated and they risk being subject to enforcement by the Equality and Human Rights Commission."
The employer to publish the biggest gender pay gap so far is women's fashion chain Phase Eight - with a 64.8% gap between male and female staff.
Phase Eight said the figure did not reflect the "true story" of the business as most male employees are in higher-paid head office roles rather than in shops.
The pay gap is calculated based on the difference in the mean hourly rate earned by male and female staff.