Stopping the rot: Meet the waste warriors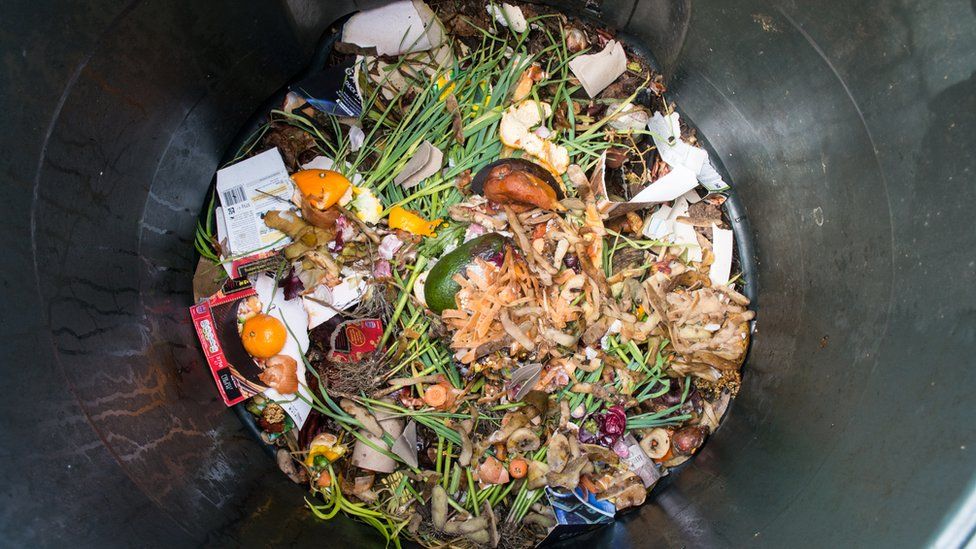 How much food do you throw away? If you're a typical Brit, you probably think it's hardly any.
According to the sustainability charity Wrap, efforts to reduce edible waste have done nothing to decrease the estimated 10 million tonnes of food that has been binned every year since 2012. That's enough loaves of bread almost to fill Wembley Stadium; enough milk to fill 230 Olympic-sized swimming pools; and the weight of 365 blue whales in bananas alone. Food waste within homes accounted for more than 70% of this.
In a recent survey by Wrap, 59% of people said they jettison no - or barely any - food. Helen White, from the organisation, is sceptical. As she says, it's coming from somewhere.
And although she's "certainly not asking anybody to eat eggshells, suck teabags or chew on orange peel", she is asking us to commit to small changes that can make a big difference.
Here are some people who are already pulling their weight when it comes to reducing food waste.
If fresh food at shops, cafes, restaurants and street stalls isn't sold, what happens to it? Some donate uneaten sandwiches and the like to charities - but the greater proportion is thrown in the bin.
Enter a pair of millennials and their smartphones.
Jamie Crummie and his best friend Chris Wilson are behind an app called Too Good To Go, which enables users across the country to buy cut-price meals at the end of trading time.
The two entrepreneurs, who met while studying at the University of Leeds, don't see it as just a money-spinner - in fact, Mr Crummie says the ideal goal would be to go out of business because they've raised so much awareness that there is no more food waste.
"People are already eating at these places, so why not do something awesome at the same time and rescue a meal that would have been wasted?" asks Mr Crummie.
The pair, who teamed up with some like-minded Danish friends to launch the app, have an ambition of eradicating the almost one million tonnes of waste produced by the food and hospitality industry every year - which has a value of more than £1.5bn.
"The app is a no-brainer," said Sean Robinson, one of more than 300,000 people to download Too Good To Go since it came to the UK in 2016.
Mr Robinson, 30, regularly leaves Sesame Salad Bar in Leeds with a takeaway box full of the shop's leftovers for just £2.70 - less than half the price of a peak-time portion.
"It's good for me as well as the customer," said the owner and manager, Ali Felan.
"When I don't have to throw food away, it makes me happy. I appreciate the app, I love it."
One potential downside is that people have to wait until closing time to eat their meal - although as another user of the app, 26-year-old Jen Wilson, points out, not everybody still has traditional office lunch hours.
"The timings are strange but later tends to work better for me."
A group of scientists believe they could be on the brink of revolutionising the food chain - and that the answer to beating food waste lies (or rather flies) with insects.
During their times as undergraduates at the University of Cambridge, Matt McLaren and his friends Joe Halstead, Miha Pipan and Fotis Fotiadis realised there was something special about the larvae of the black soldier fly.
The larvae of the insect - Hermetia illucens - have voracious appetites and their digestive systems convert food waste efficiently into useful fats and proteins. In turn, these larvae can be used as cheap, nutrient-rich food on salmon farms.
The 10 million tonnes of food we waste each year is linked to the release of millions of litres of greenhouse gas.
But the process the young graduates have developed could help reduce these emissions and cut waste. At the moment, the progress of the team's company, Entomics, is restricted by food safety laws.
Farmed animals - including salmon - cannot be fed with insects that have eaten manure, even though technically insects can process it.
"There's a lot of promise but really it's a very difficult regulatory issue," Entomics CEO Mr McLaren explains.
The team is therefore using "safer" sources of food for the insects in their research, such as rotting and mouldy vegetables from factories and supermarkets.
They have also secured a government grant for £890,000 to conduct more salmon trials with the University of Stirling.
"It just shows there's huge promise here," says Mr McLaren, who hopes to find a "truly sustainable animal feed alternative". He thinks there's even a chance humans might one day eat animals that have been fed up with insects that in turn feasted on manure and rotting meat. He said this kind of breakthrough would be a "game changer" in the battle against food waste.
Riverford Organic Farmers has gone from being "one man and a wheelbarrow" to supplying organic vegetables to tens of thousands of homes each week.
Guy Singh-Watson started growing organic veg on his family farm in Buckfastleigh, Devon, in 1986.
A few bumper crops later and the entrepreneur had gone from selling carrots out of the back of his car to supplying Sainsbury's and Waitrose.
But something about the business of supplying food started to smell a bit rotten for the eco-friendly farmer.
"I got very upset seeing our lettuces on the shelves, looking pretty old and tired," the 57-year-old says.
"They were over-packaged and wasted. You have to grow an excess to meet the demand."
So Mr Singh-Watson took matters back into his own hands, cutting ties with supermarkets to slash his waste from an estimated 50% to just 2%.
Any leftovers from Riverford's veg box scheme can be used in their restaurants or cafes, or in the staff canteen, and employees can take as much surplus as they like home with them.
Food is also donated to local charities and food banks.
The rest is given to the cows on the farms, apart from leeks, garlic and onions, which are composted instead - because if the cows eat them "they make the milk taste a bit funny".
But Mr Singh-Watson worries about the sustainability of other parts of his business, which delivers 47,000 veg boxes across England and Wales every week.
Competitors such as Amazon Fresh and home delivery from supermarkets mean consumers are becoming impatient with Riverford's delivery policy, which sees customers' postcodes determine the time and date of their delivery.
Mr Singh-Watson - who says his staff make up to eight times as many deliveries per mile than supermarkets that have specific time slots - admits he is being "pushed" towards making deliveries more flexible.
But the farmer, who sees such a move as an "environmental disaster", said: "We'll hold out as long as we can."
If life gives you apples...
On a cold, rainy day in Brockwell Park, south London, Kath Rosen and her family paint a colourful picture.
Brandishing brightly coloured homemade instruments, they are here with a dozen others to take part in the annual "wassail" - an ancient tradition to ensure a good apple harvest.
"We do lots of banging of pots and make noise to drive the bad spirits out of the tree, and then we pour some cider on the ground and hang bread in the tree to bring the robins, which are associated with fertility," Ms Rosen explains.
Ms Rosen, 43, is co-CEO of the Orchard Project, a charity dedicated to the creation and restoration of community orchards.
Perhaps surprisingly, there are plenty in London. But when you consider the definition of an orchard is "a group of at least five fruit and nut trees planted on vigorous rootstocks at low densities in permanent grassland" the situation becomes clearer.
These aren't in the rolling hills of the Kent countryside, but nonetheless London has a strong orchard heritage, as evidenced by place names such as Perivale (pear tree valley) and Plumstead (place of plum trees).
Last autumn the project harvested seven tonnes of apples from the capital's orchards, using the fruit to make juice and cider at a workshop in Herne Hill.
But, as Ms Rosen points out, that was only "the tip of the iceberg"
"There's so much more fruit in cities which is just left to rot."
Related Internet Links
The BBC is not responsible for the content of external sites.