Tour of Britain race 'gave North Lincolnshire £3m boost'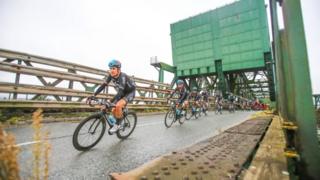 The Tour of Britain race through North Lincolnshire boosted the local economy by almost £3m, officials have said.
North Lincolnshire Council said the event provided a "massive boost", including a £530,000 spend on accommodation.
Big names from the world of cycling, including Mark Cavendish and Gerraint Thomas, brought an estimated 200,000 spectators on the day.
Almost half came from outside the area, council leader Rob Waltham said.
He said almost £1m was spent on food and drink by spectators attending the event in September, with pubs reporting takings equivalent to the Christmas period.
The tour, won by Dutch rider Lars Boom, started in Edinburgh and finished in Cardiff a week later.
The 172-kilometre North Lincolnshire stage, won by Australia's Caleb Ewan, started from Normanby Hall Country Park and finished in the centre of Scunthorpe.
Mr Waltham said: "The £3m pumped into our local economy on race day is only the tip of the iceberg when it comes to the benefits of hosting the Tour of Britain last year."
He said the event attracted a TV audience of about a million, which helped promote what the area has to offer.
"You can't put a price on that kind of publicity," he added.