Deepcut inquest: Pte Sean Benton was 'down in the dumps'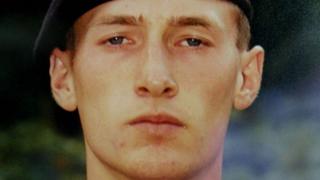 A young Army recruit was "down in the dumps" the night he was found dead at Deepcut barracks in Surrey, a fellow recruit has told an inquest.
Pte Sean Benton, 20, of Hastings, was the first of four recruits to die at the barracks between 1995 and 2002. He had five bullet wounds to his chest.
April Baines said she had spoken to Pte Benton as they were both going on guard duty in June 1995.
She told the inquest he had told her he was "fed up".
"Private Benton was being picked on quite severely," she said.
She agreed this might have been the reason he shot himself, although she said the rifle "was a bit big to shoot himself."
'Very nervous'
Former soldier Anthony Thompson, who trained with Pte Benton, said in the weeks leading up to his death the young recruit was a "changed man".
"He'd lost a considerable amount of weight and he was very nervous," he told the inquest.
"He had a nervous tick and stutter. He looked very unwell."
Mr Thompson also told the hearing he had tried to block out memories of Deepcut since leaving the army.
He said Pte Benton had been picked on by instructors, and described a "culture of abusing trainees" at the barracks.
"Deepcut was a very oppressive place. There was a lot of fear," he said. "We ended up hiding in cupboards to stay away from the NCOs."
'Quite aggressive'
Earlier the inquest in Woking heard from another recruit who arrived at Deepcut shortly afterwards.
WO2 Brian Holmes said: "It was quite aggressive. There just seemed to be shouting for no reason."
He said there were too many recruits for the number of instructors at the barracks.
"There was a lack of control, too many of us and not enough of them."
He said rumours were rife of a group of recruits who disguised themselves with gas masks and beat up those who did not fit in.
He told the inquest he had also been punched.
This is the second inquest into Pte Benton's death after his family campaigned for a full investigation amid allegations he suffered prolonged physical and psychological bullying at Deepcut.
An original inquest in 1995 recorded a suicide verdict.
Coroner Judge Peter Rook QC told the court the scope of the 1995 inquest had been "limited" and by engaging Article Two of the Human Rights Act, he had enabled a "broader" inquiry.
He said the inquest would look at factors including: who fired any shots when Pte Benton died; his state of mind; bullying and harassment at Deepcut; and any systemic shortcomings that may have contributed to his death.
The inquest, which is taking place at Woking Coroner's Court without a jury, continues.
---
The Deepcut Four
20-year-old Pte Sean Benton, from Hastings, was the first to be found dead in June 1995

18-year-old Pte Cheryl James, from Llangollen was found with a bullet wound to her forehead in November 1995

17-year-old Pte Geoff Gray, from Seaham, was found with two gunshot wounds to his head in 2001

17-year-old Pte James Collinson, from Perth, was found with a single gunshot wound through his chin while on guard duty in 2002