Pte Sean Benton inquest: Deepcut recruits 'crying their eyes out'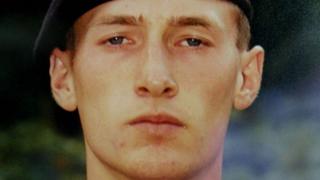 Recruits were marching round "crying their eyes out" at Deepcut barracks in Surrey, where a young Army recruit was found with five bullet wounds to his chest, an inquest has been told.
Pte Sean Benton, 20, of Hastings, was the first of four recruits to die at the barracks between 1995 and 2002.
Former soldier John Stone said Pte Benton had been "full of beans" but "they were trying to break him".
He described the barracks as "akin to a 1960s corporate borstal".
The former private told the inquest into Pte Benton's death: "It felt like something wasn't right. You'd see other recruits marching round the camp crying their eyes out."
'Keep head down'
Mr Stone said one officer, Sgt Andrew Gavaghan, "seemed to be constantly 'beasting' Sean" - the process of subjecting a new recruit to harsh treatment in order to instil discipline.
In order to get through training, Mr Stone said he had personally tried to keep his "head down", but he recalled being punished by the sergeant for forgetting his belt.
The punishment involved carrying weighted traffic cones, during which time Sgt Gavaghan shouted abuse.
"He was saying 'I bet your mother's a slut'," Mr Stone told the hearing.
Mr Stone told the inquest he had heard sounds of a fight coming from Pte Benton's room one night and went to investigate.
"I saw two people running from his room with respirators on."
Mr Stone said: "The two looked like Sgt Gavaghan and another instructor, though it was impossible to say for sure because of the gas masks they were wearing - they looked the right size and build,
"As soon we went in the room and saw Sean cowering under the sheets and assumed it must be the instructors."
'Different person'
Mr Stone told the inquest that he had gone to another army camp, for a driving course.
"When I came back to Deepcut, he [Pte Benton] was a completely different person. They were trying to break him."
He said he had seen Pte Benton the night before he died.
"There was no way on this earth that night that kid was suicidal. I thought he was full of beans.
"He was telling me he had been discharged from the army. He was looking forward to going home," he said. "He was saying, 'they can't touch me now'."
Coroner Judge Peter Rook QC has said he will examine whether the soldier was bullied and harassed at the army base.
The inquest continues.
---
The Deepcut Four
20-year-old Pte Sean Benton, from Hastings, was the first to be found dead in June 1995

18-year-old Pte Cheryl James, from Llangollen was found with a bullet wound to her forehead in November 1995

17-year-old Pte Geoff Gray, from Seaham, was found with two gunshot wounds to his head in 2001

17-year-old Pte James Collinson, from Perth, was found with a single gunshot wound through his chin while on guard duty in 2002
Correction 15 February 2018: This article has been amended after an earlier version incorrectly reported aspects of John Stone's evidence to the inquest.