'I'm not drunk, I've got Parkinson's'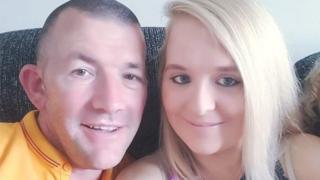 A charity is calling on shop workers to stop "mistreating" customers who have Parkinson's Disease after a man was ejected from Halfords for having a "funny walk".
Parkinson's UK has released an open letter after Chris Cartlidge was asked to leave Halfords in Trent Vale, Stoke-on-Trent for acting suspiciously.
The 51-year-old's symptoms had caused his leg to stiffen and drag on the floor. He said he found the exchange with a shop assistant "really demeaning".
'Time for change'
"There are too many cases where people are mistreated in shops and venues because of their Parkinson's," the letter said.
"This is not acceptable. It's time for a change."
It called on businesses whose staff come into contact with the public to sign up for Parkinson's awareness training.
Halfords said it was "sincerely sorry" for Mr Cartlidge's experience and would be taking the charity up on its offer of training.
You might also be interested in:
Mr Cartlidge's story has inspired other people with Parkinson's to talk to the BBC about just how common negative experiences in public places are.
Nicky Doyle was 34 when she was diagnosed and has experienced strangers jumping to the wrong conclusions.
"The worst one I ever had was at V Festival when a young man approached me and said in colourful language 'what's up with you? Are you drunk or are you on drugs?'" Miss Doyle, who is from Halesowen and now 36, said.
"I said 'no I'm not drunk, I'm not on drugs, I've got Parkinson's' and I also used colourful language to tell him where to go."
Miss Doyle said she first noticed she was shaking when she was 21.
"I get people in the supermarket looking at me strangely, barging past me or laughing at me. But it's their ignorance," she said.
"I'm very positive now so if I meet someone new I'll say 'just so you know I have Parkinson's'.
"I'm accepting of who I am and I live life as normal as anyone else."
Michelle Harvey has a similar story following her being diagnosed as having Parkinson's when she was in her early 40s.
"Once I froze in a supermarket and a guy got annoyed with me for getting in the way of the freezer door," Mrs Harvey, who is now 46, said.
She was diagnosed with Parkinson's in 2014 - five years after she first noticed her symptoms, which worsened during her second pregnancy.
"When I'm in a queue and I have a tremor or I'm moving more slowly I think some people can assume that I'm drunk.
"And when I use a disabled parking space when my symptoms are calmer I get people shooting funny looks."
Mrs Harvey, who lives in Warrington, says she used to feel tense and self conscious when strangers stared at her.
Now she says she ignores them.
"My advice to people with Parkinson's is to try not to worry about people that don't matter, and make every day count because you are the best you are going to be," she said.
Benali Hamdache, from charity Parkinson's UK, said these stories showed "the power of the human spirit".
"There are some very inspirational people who do amazing things and have these personal ways of getting through these experiences in public spaces," he said.