Secret papers in boot: Police chief faces sack for gross misconduct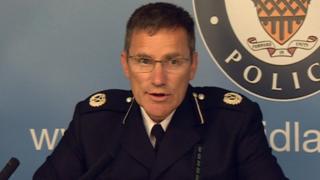 A senior counter terrorism officer with West Midlands Police is facing dismissal for leaving top secret papers in the boot of his car.
The highly classified documents were stolen from Assistant Chief Constable Marcus Beale's unmarked car in May.
A special disciplinary panel found him guilty of gross misconduct and has recommended he is dismissed.
The 54-year-old, who is due to retire in April, stands to lose a £215,000 pension lump sum if sacked.
In December, Mr Beale pleaded guilty to breaching terms of the Official Secrets Act and was fined £3,500.
The senior officer, who has a 30-year police career, has been suspended on full pay since November.
The panel heard several classified documents - including top secret minutes of a meeting of the Executive Liaison Group (which passes on intelligence of major covert terror investigations to police forces) - were placed in a metal briefcase in the boot of Mr Beale's car on 10 May.
The briefcase also contained details of organised crime and highly sensitive information about a high-profile investigation. None of the papers was supposed to be taken off police premises, the panel heard.
Mr Beale's car was parked in several different locations over five days, including at a railway station while he had a weekend away in London with his wife, a pub and a supermarket.
He only realised the briefcase was gone on 15 May. The panel chair noted that the whereabouts of the documents remains a "mystery".
'Catastrophic'
Defending Mr Beale, John Beggs QC argued it was an "isolated act, wholly out of character".
He summarised 98 testimonials in support of Mr Beale, who "has helped stop people being murdered and maimed" and referred to cases where terror plots were foiled as being partly down to his leadership.
Fiona Barton QC, representing West Midlands Police, said: "The impact could have been catastrophic. It is a matter of luck the documents do not appear to have seen the light of day.
"The documents should never have been in a locked briefcase and in an unattended car certainly not for a few minutes, let alone days."
Delivering the panel's verdict, its chairman, Corinna Ferguson, said: "We have decided to recommend dismissal as the appropriate outcome.
"We consider this as the necessary sanction for what we regard as a serious breach of protocol as to the handling of top-secret and secret material, as it is necessary to retain public confidence and the reputation of the police."
Mr Beale's future now rests with the chief constable of West Midlands Police, Dave Thompson. A decision is expected to be made in the next few weeks.