Duncan Tomlin arrest: Restraint death plea fails again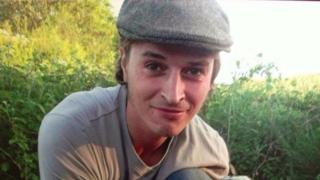 A family's hopes for action against five officers over the death of a man who was restrained and put in a police van have failed a second time.
Prosecutors have carried out a second review of evidence over the death of 32-year-old Duncan Tomlin in 2014, but the Crown Prosecution Service (CPS) confirmed no officers would be charged.
The first decision not to charge the Sussex Police officers came in 2016.
The CPS reviewed the decision after the family appealed.
Mr Tomlin, from Oxfordshire, was detained after a disturbance in Haywards Heath on 26 July 2014.
He was taken to hospital when he stopped breathing, but died three days later.
Speaking after the CPS announement, Mr Tomlin's father, Paul, said: "To say I am bitterly disappointed by the CPS's decision is an understatement although, I am not surprised by it, given how few prosecutions are brought against police officers."
'Routine lack of action'
He said the family now hoped an inquest would provide answers and accountability over his son's death.
A CPS spokesman said: "The review was carried out by a senior specialist prosecutor not involved in the earlier decision.
"We have concluded that the original decision was correct and the evidential test, as set out in the Code for Crown Prosecutors, is not met, meaning there is not a realistic prospect of conviction."
Deborah Coles, director of Inquest, said the campaign group was waiting to hear whether Sussex Police would launch disciplinary proceedings.
She said: "The routine lack of criminal action following police deaths is the source of great anger and pain for families."