Ex-BBC Look North presenter Christa Ackroyd facing tax bill of £420k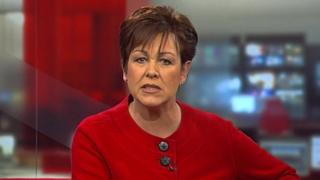 Former BBC Look North presenter Christa Ackroyd is facing a tax bill of up to £420,000 after losing a legal battle with HM Revenue & Customs (HMRC).
Ms Ackroyd and HMRC were in dispute over the nature of her BBC contract and whether she had paid too little tax.
She was one of a number of people employed by the BBC via personal service companies.
Ruling against her, a tax tribunal said HMRC had "never suggested" she was a tax cheat or had acted dishonestly.
Ms Ackroyd said the ruling had brought an end to "five horrendous years of innuendo and gossip" surrounding her financial affairs.
A BBC spokesman said the use of personal service companies was "entirely legitimate and common practice across the industry".
More stories from across Yorkshire
Ms Ackroyd presented Look North in Yorkshire from 2001 to 2013 after joining from ITV's rival news programme Calendar.
The tribunal heard she was employed via two fixed-term contracts agreed between the BBC and her personal service company, Christa Ackroyd Media Ltd (CAM).
HMRC argued that as an employee of CAM the company was liable for income tax and national insurance payments while Ms Ackroyd claimed she was a self-employed contractor and CAM had no further liability.
'Encouraged by BBC'
Ruling in favour of HMRC, the tribunal said: "We do not criticise Ms Ackroyd for not realising that IR35 legislation was engaged.
"She took professional advice in relation to the contractual arrangements with the BBC and she was encouraged by the BBC to contract through a personal service company."
HMRC says Ms Ackroyd is liable for unpaid tax between 2008 and 2013 totalling £419,151. Ms Ackroyd claims the unpaid figure is approximately £207,000.
The tribunal said the parties had 42 days to either reach an agreement on the figure or seek a further ruling.
Ms Ackroyd said: "The contract issued by the BBC has now been deemed a contract of employment rather than freelance and is as such subject to different tax rules.
"That it has taken five years is an indication of the complexity of IR35 legislation regarding freelance broadcasters.
"As you can imagine I have suffered five horrendous years of innuendo and gossip suggesting I am a tax cheat. This judgement proves once and for all I am not."
'Common practice'
A BBC spokesman said paying Ms Ackroyd via CAM was "standard industry practice at the time" when she was taken on in 2001.
He added: "Until last year it was for individuals with service companies rather than those engaging them to determine their status for tax purposes.
"The use of personal service companies is entirely legitimate and common practice across the industry as it provides flexibility for both individuals and organisations.
"An independent review conducted in 2012 found that there was no evidence that the BBC had attempted to avoid income tax or NIC by contracting in this way."
A spokesperson for HMRC said it could not comment on individual cases but added: "Employment status is never a matter of choice; it is always dictated by the facts and when the wrong tax is being paid we put things right."
In 2016 it emerged in legal documents that about 100 BBC presenters were being investigated over similar claims.