Ex-West Ham player Blair Turgott 'gambled £16k of stolen money'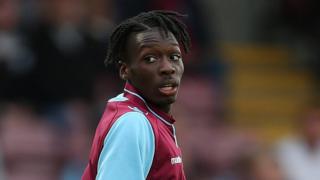 A former Premier League footballer gambled £16,000 using a card stolen from a pensioner, a court heard.
Ex-West Ham winger Blair Turgott, 23, is accused of withdrawing the cash before exchanging it for chips during a night at the Playboy casino in Mayfair.
Mr Turgott, who made one first-team appearance for the Hammers and is now signed to Maidstone, cashed out £900 in profit at the end of the night in 2016.
He denies fraud and converting criminal property at Southwark Crown Court.
Prosecutor Kaj Scarsbrook said the card used by Mr Turgott, from Bromley, was stolen from Peter Dixon, 85, on 30 September 2016.
The court heard Mr Dixon was called by someone posing as a Barclays Bank employee, who said he needed to collect the debit card so a new one could be issued.
Shortly after, a man in his 20s knocked on his door and Mr Dixon handed over his card.
Jurors heard about £16,000 was taken from Mr Dixon's current account, with CCTV showing Mr Turgott making two £8,000 withdrawals at the Park Lane casino before spending the evening gambling.
The victim said he feels "foolish at handing my card over" and that the funds were intended for his children's inheritance.
Mr Turgott claimed he was given Mr Dixon's card and PIN number by his gambling friend, Ali, who owed him for help with a Ugandan property development.
He said: "He was a friend to me for a long time. Obviously, I trusted him."
Mr Turgott claimed Ali met him outside the casino on 30 September 2016 to repay the debt.
The footballer said he was "confused" when Ali gave him a credit card with Mr Dixon's name on it.
But he was reassured when Ali showed him a WhatsApp conversation, which purported to show Mr Dixon giving permission for the use of his card.
Mr Turgott said: "As I trusted him, I thought that was genuine."
The trial continues.