Recycling rates fall for 14 million homes in England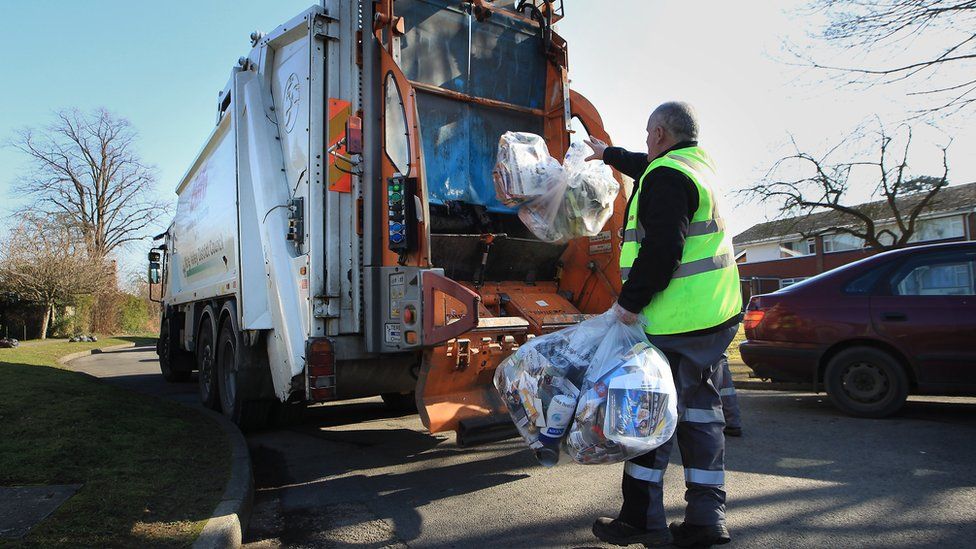 Recycling rates of councils serving 14 million households in England have fallen over five years, analysis by BBC News has found.
Half of local authorities recycled a lower proportion of household waste in 2016-17 than in 2011-12.
Experts warn the UK is likely to miss its target of recycling 50% of household rubbish by 2020.
The Local Government Association (LGA) said recycling in England had still quadrupled compared with 10 years ago.
Since 2011-12 the overall household recycling rate in England has risen by just 0.7%, while most regions have seen a fall.
Out of 350 councils for which there are comparable figures, 173 had lower recycling rates in 2016-17 compared to 2011-12.
The majority of regions in England saw a decline in household recycling rates over the same period.
The amount that all councils budgeted to spend on recycling services has fallen in real terms from a high of £630m in 2013-14 to £569m in 2016-17 - a fall of 10%.
Local council budgets for all waste management services have also been cut in real terms by £400m since 2010-11, with projected spending falling from £4.5bn to £4.1bn in 2016-17.
The North East of England has seen the largest fall in recycling rates, which has left local volunteer groups having to clear up waste.
"Our windswept beaches are plagued by rubbish" says Carl Quartermain, who set up the group Friends of Redcar five years ago.
"Every month we get around 40 volunteers who sweep our beaches and we pick up hundreds of kilos of rubbish from sanitary products to every plastic bottle imaginable".
After setting the group up Mr Quartermain became a local councillor and has seen first hand the pressure local authorities are under.
"Councils just don't have the financial resources to do what they once did, and when it comes to waste and recycling, I feel this is very much a model for the future where local community groups work in partnership with the council".
As councils have warned against the government making further cuts to their budget, some experts predict that spending on recycling services is likely to be reduced further.
Jennifer Glover from the Local Government Intelligence Unit (LGIU) said: "When you've got a creaking social care system trying to look after elderly people, and children being taken into care, recycling rates are simply not a priority for many councils."
A survey by the LGIU found only one in 10 councils said environmental and waste issues were their greatest immediate pressure, compared to six out of 10 that said adult social care and children and education services were their most pressing issues.
The UK government has a target that 50% of household waste will be recycled by 2020.
"I'd be surprised if we get anywhere near that" said Margaret Bates, professor of sustainable waste management at the University of Northampton.
"We've got some parts of the country doing well when it comes to recycling, but when it comes to areas with low rates, these places tend to be poor with transient communities and have lots of flats and tower blocks.
"In those places it's hard to separate your waste, and we've done surveys that have found that the more your neighbours recycle, the more you're likely to."
Hartlepool Council, which saw the biggest drop in recycling, said it was "working hard" to reverse the trend.
Derby City Council said its recycling rates had fallen after it made changes to its recycling collection services in 2014, but said rates had increased in the past two years.
It said it had taken away "kerbside blue bin recycling" from some areas of the city "due to high levels of contamination" but was "reaching out" to people who had put the non-recyclable rubbish in the wrong bin.
Budget figures for the current financial year, 2017-18, show local authorities plan to inject an additional £42m into recycling services, with the Local Government Association (LGA) claiming recycling is a real "success story for councils".
Councillor Martin Tett from the LGA said: "Recycling rates having quadrupled in the last decade and our own polling shows eight out of 10 people are happy with the way their local council collects their rubbish.
"But councils are under huge financial pressures and in England face an overall funding gap that will exceed £5 billion by 2020. Having to prioritise vital services such as the demand for children's services, adult social care and homelessness support is leaving increasingly less money for councils to fund other services such as waste collection."
Environment minister Thérèse Coffey told the BBC: "We have made good progress and in 2016 recycled or recovered over 70% of all packaging waste across the UK, far exceeding the EU target of 60%. Recycling of household waste also continues to increase.
"Our 25-year plan for the environment sets out our commitment to leave the environment in a better state than we inherited it, and we'll be setting out more detail on how we further increase our recycling rates in our Resources and Waste Strategy later this year."