Call to smash Sussex 'abuse' clergyman's headstone
By Colin Campbell
BBC South East Special Correspondent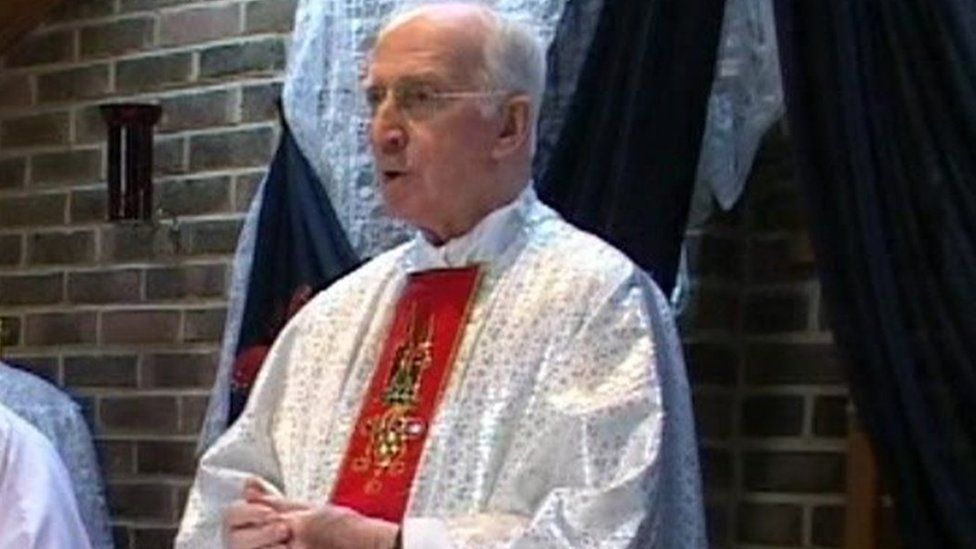 A relative of a clergyman accused of abusing an 11-year-old boy has called for his headstone to be destroyed.
Canon Dermod Fogarty, who died in 2012, is accused of subjecting Stephen Bernard to a four-year abuse ordeal in a book written by the Oxford academic.
Deirdre McCormack, Canon Fogarty's next of kin, says the epitaph to a much-loved, wise priest - which she wrote - has been shown to be a "blatant lie".
Ms McCormack has not yet had a response to her request.
Canon Fogarty worked in the Arundel and Brighton diocese for 67 years.
In his memoir, Dr Bernard said he endured more than 300 separate sexual attacks from the cleric starting in 1987.
After being assaulted, he says he was forced to confess his sins to Canon Fogarty.
The Church in Sussex was made aware of the allegations before Canon Fogarty died on 15 October 2012. It has insisted proper safeguarding procedures were followed.
Canon Fogarty's funeral was attended by many senior figures, including the-then head of the Catholic Church in England and Wales, Cardinal Cormac Murphy O'Connor.
Ms McCormack, the Canon's closest living relative, criticised the "magnitude" of the funeral and said of the headstone: "I actually want it destroyed. I want someone to take a sledgehammer to it."
Ms McCormack chose the words on his headstone, which read: "A wise priest much loved by his family and all who knew him."
Now she says: "I can't live with something that I had erected that tells such a blatant lie."
The former Macmillan nurse said she herself had survived sexual abuse by Catholic priest Father Terence O'Brien, who died in 2000, and she wanted to help Mr Bernard move on with his life.
She said: "Suffering becomes intolerable when you are left on your own. Stephen has been left on his own to live with this. He needs to be heard."
Dr Bernard and his publishers declined to give a further interview to the BBC.
In a statement, the Church said: "The diocese was already aware of the allegations made by Dr Bernard in his book Paper Cuts.
"The diocese first received Dr Bernard's allegation on 6 September 2012 and responded in accordance with the church's national procedures; a member of the diocesan safeguarding office met with Mr Bernard on 10 September 2012.
"The diocese was also aware that Dr Bernard reported his complaint to the police in 2015 and the diocese is committed to cooperation with the statutory agencies."
Sussex Police have not yet commented.
Related Internet Links
The BBC is not responsible for the content of external sites.