UK snow: The Lincolnshire villages cut off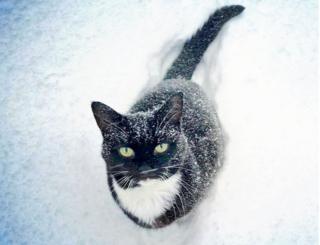 In a match-up that sounds like a final of the Women's Darts Championships at Lakeside, the Beast from the East meets Storm Emma.
Lincolnshire has been one of the most affected areas in England, with police warning all major roads in the county are blocked. Some villages have been cut off, others are managing to soldier on.
Here is what it's like for some.
---
Mark Bates, Stenigot
"I just about made it home before we got snowed in on Tuesday night with up to two feet of snow. Luckily my wife had been shopping that morning so we are OK for food but we have seen no gritters or snow ploughs and we are cut off from the main roads to Louth and Horncastle.
"Now the wind has picked up and snow is drifting across the fields. If the weather persists, we could be like this all weekend.
"I'm a taxi driver and have contacted my elderly passengers by telephone to see they are OK and made sure they're warm and have enough food. Another customer of mine kindly offered to get any of my elderly passengers any bits they need as she lives in Horncastle.
"A lot of these customers rely on me to get them out and about as well as little jobs I do for them such as changing light bulbs, posting letters or moving things."
---
Mark Meacher, who was snowbound at Wainfleet St Mary
"I was stuck in my car all night. I left work yesterday at 17:15, we were diverted and then got lost and stuck.
"It was game over really.
"We couldn't move.
"But now I've been rescued, it's been a rough 36 hours and now I'm off to bed."
---
Rebecca Lockley, Dunholme
"The situation here and in the surrounding villages is rough. I come from the north east of the US, where six inches of snow should be a drop in the bucket - however it grinds local village life to a halt.
"It started on Tuesday with the cancellation of grocery deliveries, leaving many of us at the mercy of the local Co-Op, which simply cannot cope with being the main grocery store for the entire village.
"I thought about grabbing a bus up to one of the grocery stores on Wednesday, but the local bus was cancelled, and services were cancelled today as well.
"The biggest issue is the number of elderly people in this village who have no way of getting supplies and no way for their carers to get to them in this weather.
"The roads are hit and miss. Two of the main roads seem relatively clear, but some are a struggle and I heard several streets are still completely impassable, as we simply won't see a plough on the smaller streets.
"The footpaths are walkable, if you can keep your balance on the packed-down snow, but are most definitely not passable if you use any type of walking aid."
---
Christine Bowers, Winteringham
"It seemed a normal snowy morning for our daughter's 21st birthday. My husband went off out to work at 06:30 - only to be snowed in. The drifts were up to his thighs. Cars were stuck and we're on a bus route.
"He helped rescue a few cars and made the decision to not try and make the journey in to work. Now the roads are being cleared but the winds are awful."