Museum bid to buy part of piano coin hoard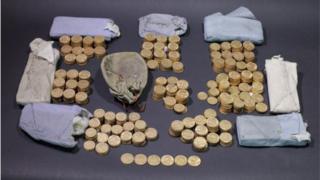 A museum has started a bid to buy part of a gold sovereign hoard discovered hidden inside a piano.
The find was made in 2016 in Shropshire when the piano's new owners had it retuned and repaired. It has since been declared as treasure.
Broadwood and Sons, of London, made the upright piano and sold it to two music teachers in Saffron Waldon, Essex, in 1906.
Now, a museum in the town is trying to "bring home" some of the coins.
There are 913 gold sovereigns and half sovereigns dating from 1847 to 1915, from the reigns of Queen Victoria, Edward VII and George V.
They were found under the keyboard of the piano, stitched into cloth-bound packets and a single leather drawstring purse.
At an inquest in Shropshire, to decide whether the find qualified as treasure, it was revealed 50 people came forward laying claim to the hoard.
But the tuner who found it and Bishop's Castle Community College, which owns the piano, shared a reward from the find.
Saffron Walden Museum said it believed the coins were "deliberately hidden" by a Saffron Walden resident sometime in or after 1926.
The piano had latterly been purchased by the Hemming family in the Saffron Walden area in 1983, who moved to Shropshire and donated it to the college.
The museum said: "We don't know why the owner of the piano hid the coins or why they were never retrieved.
"The questions surrounding this hoard only add to its intrigue and appeal."
It now wants to raise £3,000 to acquire a selection of the coins and the piano for a display and education piece for schoolchildren.
So far it has raised just over £500.