Sussex university students illegally buying 'smart pills'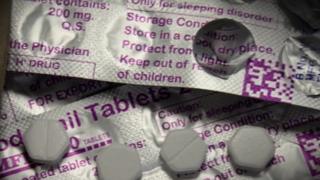 Students are illegally selling powerful prescription drugs which can boost their concentration and improve their grades, BBC South East has discovered.
"Smart pills" are being sold on university campuses after being bought online and imported into the UK.
Sarah, who last year graduated from the University of Sussex, said tablets could be bought in bulk for 50p each and sold on for upwards of £3.
The university said students should not take drugs not prescribed to them.
The drug Modafinil is the most popular type of "smart pill" taken by students who want to stay awake and alert for longer.
Live: More news from across the South East
While it is a criminal offence in the UK to sell the drug in person or online without a valid prescription, it is legal to buy and import it into the UK for personal use.
The Medicines and Healthcare Products Regulatory Agency (MHRA) warned the drugs could contain all sorts of impurities, and those selling it were only interested in making money.
The pills are prescribed legally by doctors to patients who suffer with severe sleep or attention deficit disorders.
Side effects include heart problems, psychosis, hallucinations and severe skin reactions.
Sarah told BBC South East she regularly took and sold the drug Modafinil during her degree at the university in Falmer.
"I would say that more people I know have tried it and used it than haven't."
She said students who initially bought the tablets could make a large profit by selling them on to their peers.
"I've known people pay £10 a tablet just to get their hands on it, especially around exam time when people are really frustrated and they just need to spend the whole night cramming," she said.
Ali, a student at the University of Kent, also bought Modafinil when he was stressed about exams and coursework.
"I needed something to keep me energetic and make sure I could actually focus on my work," he said.
A statement from the university in Canterbury said it was not aware of any incidents or concerns reported in relation to the use of Modafinil, and it was prescribed to "a small number of students for valid medical reasons".