Topman withdraws shirt amid Hillsborough anger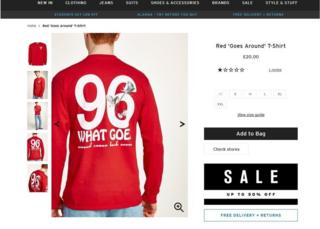 Retailer Topman has withdrawn a shirt after criticism it could be seen referring to the Hillsborough disaster.
The red shirt with a large number 96 is being seen by some Liverpool fans as a reference to the club's kit and number of victims killed in the 1989 disaster.
Louise Brookes, whose brother Andrew died in the tragedy, and MP for Wirral South Alison McGovern were among those calling for it to be removed from sale.
Topman apologised "unreservedly" saying it was based on a Bob Marley track.
The shirt is no longer on sale online or in stores, the shop said.
In a tweet, Labour MP Ms McGovern said the shirt was "very unfortunate".
Under the number 96 on the back of the long-sleeved red top, the design includes the words, "What goes around comes back around".
On one sleeve of the £20 top is the word "Karma".
Ms Brookes, whose 26-year-old brother died at the stadium, said "karma" and "what goes around comes around" were used by some rival fans who claimed Hillsborough was "God's punishment" for the Heysel disaster in which 39 people, mostly Juventus supporters, died at a match against Liverpool.
She also said the red colour, the number 96 and the rose were all symbols she associated with Hillsborough.
Chairwoman of the Hillsborough Family Support Group, Margaret Aspinall, whose son James died in the disaster, said she could "quite understand the fans and the families being upset about this".
She urged those who approved the design to be made to "look up on Hillsborough because they've got to learn".
Some Twitter users had initially said the top referenced the Bob Marley song What Goes Around Comes Around, a remix of which was released in 1996.
Others said Karma was a brand.
The shop said in a statement: "Topman apologises unreservedly for any offence caused by this T-shirt.
"The design was inspired by a Bob Marley track with the number referring to the year of re-release. The garment has been removed from sale online and in stores."
'Weird coincidence'
Ms Brookes said whatever the shirt's original message, "people will use it now as a way of antagonising Liverpool fans".
She added: "Our 96 were decent human beings who did nothing wrong.
"How would people feel if it was their loved ones being mocked?"
London College of Fashion's Professor Kate Fletcher said her mind was "boggling" at "the lack of ethical oversight" by Topman, adding: "It's a complete mystery to me how they came up with this design."
"The speed and volume of the fashion industry means it's making the clothes in distant areas.
"The local knowledge and expertise is gone and the cultural context of where it is worn is not known."
Some Twitter users have expressed their "disgust" and called for a boycott.
You may also be interested in:
One user @elabellaboo said: "The fact that it has provoked thought towards the Hillsborough tragedy is enough of a reason not to sell the product."
Others called it "disgraceful", "in really bad taste" and "offensive".
But others have said the shirt is nothing to do with Hillsborough.
One user, @TaintlessRed, said any connection was probably "unintentional", adding: "They've could've thought of the other connotations perhaps but probably the designers don't follow football or were aware."
Another, @98JamesConroy, said it was a "weird coincidence".
Several said Topman would not deliberately put a top out mocking Hillsborough.
Also on Twitter, Ayden Cox said: "That Topman t shirt is an unfortunate coincidence. They need to remove it because it looks awful! But this is surely just a genuine mistake."