Sean Benton inquest: Deepcut bullying 'not endemic'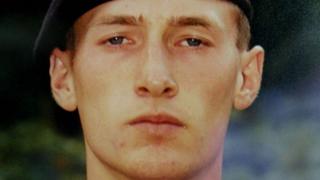 Bullying was not institutionalised at Deepcut barracks, an inquest into the death of a recruit who was found with fatal gunshot wounds has heard.
Pte Sean Benton, 20, of Hastings, East Sussex, died in June 1995 after being found with five bullets in his chest.
Lt Col Robert Gascoigne told the inquest he would have known if bullying was endemic.
He told Woking Coroner's Court he would have "immediately jumped on it", adding: "It should not have happened."
Lt Col Gascoigne, a major at the time, was the officer commanding B Squadron at the Surrey base when Pte Benton died.
'Trusted' officer
Allegations of bullying have been made against two of his instructors - Sgt Andrew Gavaghan and Cpl Martin Holder.
Lt Col Gascoigne told the inquest his non-commissioned officers and officers "were very well aware" what would happen if he found out they had overstepped the mark when it came to the mistreatment of recruits.
"Even now I do not believe there was institutionalised bullying at Deepcut," he said.
Describing Sgt Gavaghan as "trusted", he said "at no time" did he see the instructor mistreat trainees.
He also told the inquest that Pte Benton "never mentioned any bullying" and "never mentioned any harassment".
Lt Col Gascoigne said welfare issues of those in the squadron were raised on a weekly basis, with Pte Benton's case discussed "more than anyone else's in my two years".
He recalled talking to Pte Benton after the young recruit had kicked in a window.
Pte Benton was "very apologetic", he said, adding: "It was very, very clear he wanted to stay in the Army and he said he did not have anywhere to go - 'please, please do not kick me out'."
In March 1995, Pte Benton was put on a three-month warning order, and was told that "any messing up" would mean an immediate discharge.
'Very upset soldier'
He was later discharged following an incident at a pub.
"He knew it was coming and resigned himself to the fact that it was coming," the officer said.
"I knew full well we would have a very, very upset soldier on our hands and as a result we needed to take a few extra precautions."
Lt Col Gascoigne added: "Whilst I did not think for one minute he would commit suicide, I was aware he might get himself in trouble."
Pte Benton was the first of four soldiers to die of gunshot wounds at the barracks between 1995 and 1992.
A first hearing gave a suicide verdict, but his family campaigned for a fresh investigation amid claims he suffered prolonged bullying.
The inquest continues.
---
The Deepcut Four
20-year-old Pte Sean Benton, from Hastings, was the first to be found dead in June 1995

18-year-old Pte Cheryl James, from Llangollen was found with a bullet wound to her forehead in November 1995

17-year-old Pte Geoff Gray, from Seaham, was found with two gunshot wounds to his head in 2001

17-year-old Pte James Collinson, from Perth, was found with a single gunshot wound through his chin while on guard duty in 2002