Xanax drug sold on social media found to be fake
By Lauren Moss
Social affairs correspondent, BBC South East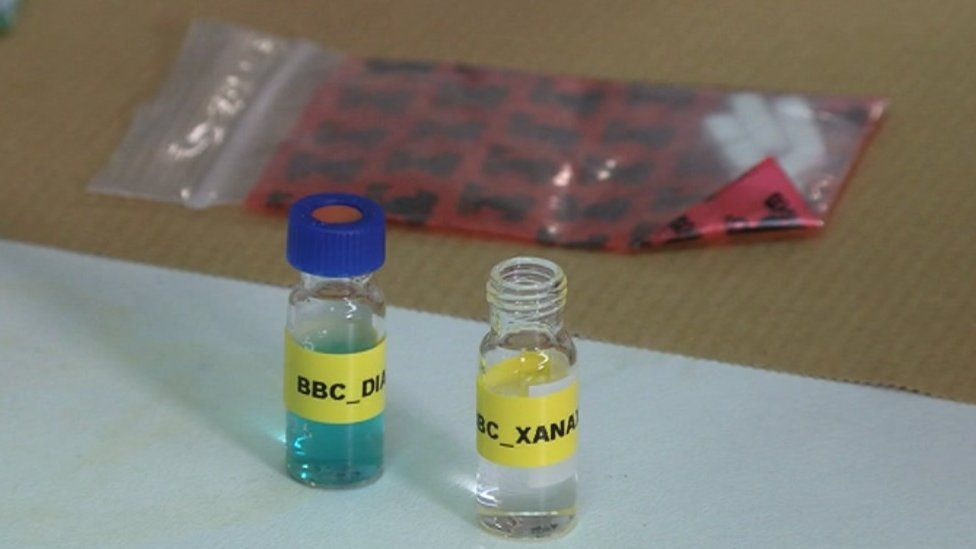 Drug dealers offering teenagers the drug Xanax have been selling fakes that contain a substance linked to several deaths, BBC South East has found.
The drug, also known as alprazolam, is widely prescribed in the US to treat anxiety but can only be obtained on private prescription in the UK.
When laboratory tested, both were found to be the banned drug etizolam, which had been re-pressed, stamped and dyed.
The substance, which has been linked to deaths in the UK and the US, used to be a "legal high" drug, and is much stronger than valium.
As a medicine it has similar effects to Xanax and is also used to treat anxiety. It is addictive and can be fatal if mixed with other substances, such as alcohol.
Neil Coles, of the youth support charity Young Addaction, said: "We're dealing with a lot of young people who think they're receiving one thing, they're receiving something else, and that means it's really difficult for them to judge [the] dose."
'I thought she was drunk'
Sarah said her daughter started using the drug when she was just 14 to tackle her anxiety.
"I didn't know at the time it was Xanax.
"I thought she was drunk... [she was] wobbling all over the place, slurred speech, bumping into things, falling over.
"Then she started getting aggressive. My daughter was convinced that she knew what she was taking."
In recent weeks at least half a dozen teenagers in Brighton have needed hospital treatment after taking what they thought was Xanax.
Facebook, Instagram and Snapchat all say selling or buying drugs on their sites is banned.
Users are asked to report such activity using the sites' reporting tools.
The chair of the Culture, Media and Sport Committee, Folkestone MP Damian Collins, has said he would be writing to the internet platforms to demand they tackle the illegal trade.
"We should say to the companies we expect you to act responsibly against this content, and if we feel you're failing to act then there should be some liability, be that fines or being open to legal action."
The Home Office said it was "taking firm action to prevent the harms caused by drugs".
Related Internet Links
The BBC is not responsible for the content of external sites.