'UK's last lion tamer' Thomas Chipperfield refused licence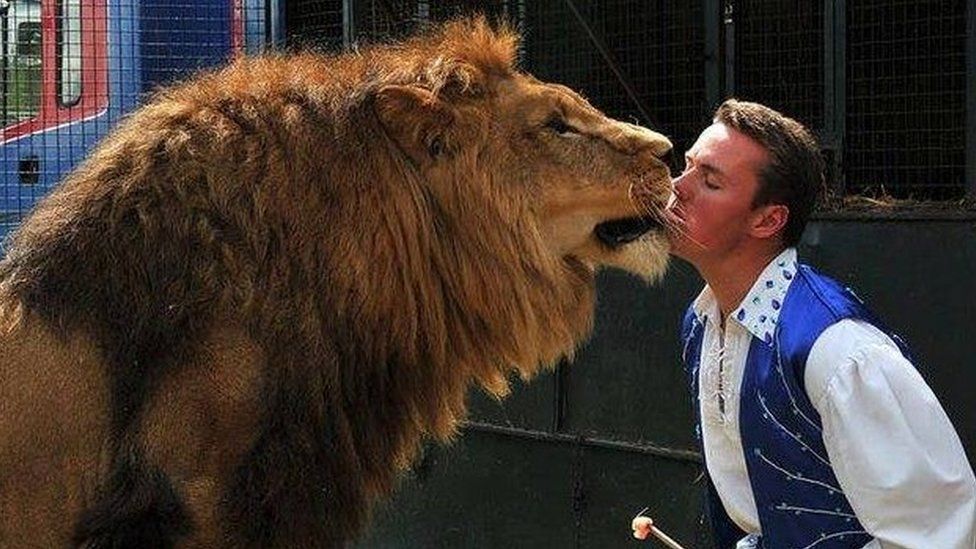 The UK's last lion tamer has been refused a licence to use three big cats in a travelling circus.
Thomas Chipperfield's appeal against the decision, made by the Department for Environment, Food and Rural Affairs in July, was also dismissed in court.
A Defra spokesman said it remained "absolute" in its commitment to ban wild animals in circuses.
Mr Chipperfield, of Winchester, Hampshire, said no welfare concerns were raised and he plans a new appeal.
He has been keeping his animals - two lions and a tiger - in Cannock, Staffordshire.
A BBC freedom of information request confirmed he initially submitted an application to the government department for his Big Cats Live circus, at Winter Quarters in Staffordshire, in April last year.
Mr Chipperfield appealed against Defra's July decision but it was upheld by North Staffordshire Magistrates Court in January.
Defra said it was refused because it was not satisfied licensing conditions would be met based on Mr Chipperfield's previous conduct as an operator of a travelling circus and other relevant circumstances.
The court said it rejected the appeal because although he was very experienced with big cats, along with concerns over licensing conditions not being met it felt he would also be unable to maintain suitable care plans for the animals and to provide written itineraries.
Mr Chipperfield told BBC News pursuing a second appeal limited what he could say but he had "consistently acted in good faith with my team on the advice given by the circus licensing panel and their inspectors. This advice was often conflicting."
The government has said it will not seek to renew regulations allowing animals in travelling circuses once they expire in 2020.
A Defra spokesperson said: "[This is because] we remain absolute in our commitment to banning wild animals in circuses and intend to introduce the ban prior to the regulations expiring in January 2020.
"Until we are able to achieve this, we will impose the strictest possible standards to ensure the welfare needs of these animals are met."
Jan Creamer from Animal Defenders International said it was "a victory for common sense", adding that "travelling shows cannot meet animals' needs".
Related Internet Links
The BBC is not responsible for the content of external sites.