Brampton railway line blocked by crashed car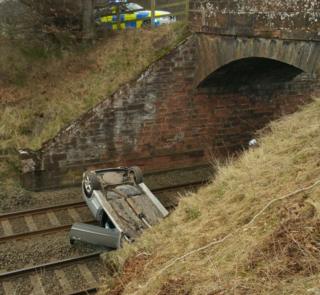 A car crashed down an embankment on to a cross-country train line, halting services in both directions.
The car landed upside down on the Newcastle to Carlisle line at Brampton, Cumbria, just before 16:00 BST, the Great North Air Ambulance said.
The driver, in his 20s, was taken to hospital with back and shoulder injuries, a spokesman said.
Train services resumed five hours after the crash, but at reduced speed, National Rail Enquiries said.
Northern Trains and ScotRail trains could continue to be delayed, it said.
Services had already been disrupted by strike action.
Passengers stuck on trains or platforms have tweeted that their trains have been delayed and they have been unable to get information.