Flood warnings in place after Easter rain and snow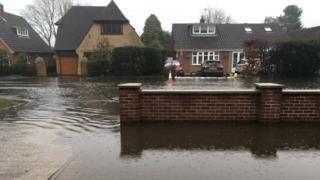 There is a risk of flooding across England with warnings and alerts in force across the country, the Environment Agency has said.
The warnings came after most of the UK experienced either heavy rain or snow on Monday.
The Foss Barrier in York was lowered at 07:30 BST, and flood sirens sounded in Todmorden and Hebden Bridge, West Yorkshire, on Monday night.
Three people and a dog were rescued from a car in floodwater in Derbyshire.
As of 10:35 BST, 26 flood warnings and 190 alerts were in force in England.
Earlier in the day there had been 58 flood warnings and more than 250 flood alerts in place, more than half of them in Yorkshire.
The Foss Barrier, a 16.5 tonne gate, was activated as river levels rose on the River Ouse.
Holgate Beck and riverside properties along the River Foss in York are among the places where the Environment Agency has warned immediate action is required.
But it said the situation was not as bad as that in December 2015 when hundreds of people in the city had to be evacuated after the both rivers burst their banks.
River levels are also rising across Herefordshire and Worcestershire.
Two bridges near Worcester, Eckington Bridge and Jubilee Bridge in Fladbury, have both been closed over fears of flooding on the River Avon in Strensham and Bredon, Tewkesbury.
Derbyshire Fire Service said a car had been stuck in floodwater in Shirley Lane, Hollington, on Monday.
Firefighters in North Yorkshire also said they were helping some residents after overnight flooding.
Crews removed flood water from two properties - at Gilling East, near Helmsley, and a house near Strensall - where the electrics in both properties were affected by the rising water.