'Papers in boot' police chief Marcus Beale sacked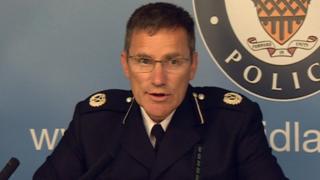 A senior police officer who left top secret documents in the boot of his car for five days before they were stolen has been dismissed without notice.
Assistant Chief Constable Marcus Beale was found guilty of gross misconduct by a disciplinary panel in February which recommended he should be dismissed.
West Midlands Chief Constable Dave Thompson made the decision to sack Mr Beale during a special case hearing.
Mr Beale has been able to retain his £215,000 lump sum pension.
Mr Beale left several classified documents in the boot of his car on 10 May 2017 and said he only realised they were missing five days later.
In December at Westminster Magistrates' Court, Mr Beale admitted failing to safeguard information under the Official Secrets Act and was fined £3,500.
He was suspended from the force in November on full pay, on an annual salary of £119,000.
The documents included top secret minutes of a meeting of the Executive Liaison Group, which passes on intelligence of major covert terror investigations to police forces, as well as highly sensitive information about a high-profile investigation.
The location of the documents, which police said were not supposed to have been taken off police premises, remains a "mystery".
Mr Beale had been due to retire this month after 30 years of police service. After a legal ruling the hearing was pushed back so Mr Beale's dismissal would not fall outside of his notice period, meaning he could still claim his pension.
"I am sure the public would recognise the great service and would wish no harm to him and his family and to this extent I have no regrets this case has finalised after he can retire securely," Mr Thompson said.
'Deeply painful'
During the five days the documents were in the boot of Mr Beale's car, it had been parked in several different locations, including at a railway station while he had a weekend away in London with his wife, a pub and a supermarket.
Despite a "considerable diversion" of police resources, the documents were not recovered.
Mr Thompson said: "It is deeply painful to look at what he [Mr Beale] has achieved and where he is now.
"At the heart of this case is simply what sanction will maintain public confidence in policing."
Mr Beale's counsel John Beggs QC said in light of his imminent retirement, dismissal would be "merely symbolic", adding the 54-year-old's failings had been "unintentional with no malice or premeditation".
Previously, Mr Beale was one of four former Staffordshire Police officers who it was recommended by the then Independent Police Complaints Commission should face disciplinary proceedings over the "mishandling" of the Kevin Nunes murder investigation.
In March 2016 it was confirmed none would face a hearing.