UK prisons 'awash' with smuggled phones and SIM cards
By Alex Homer
BBC News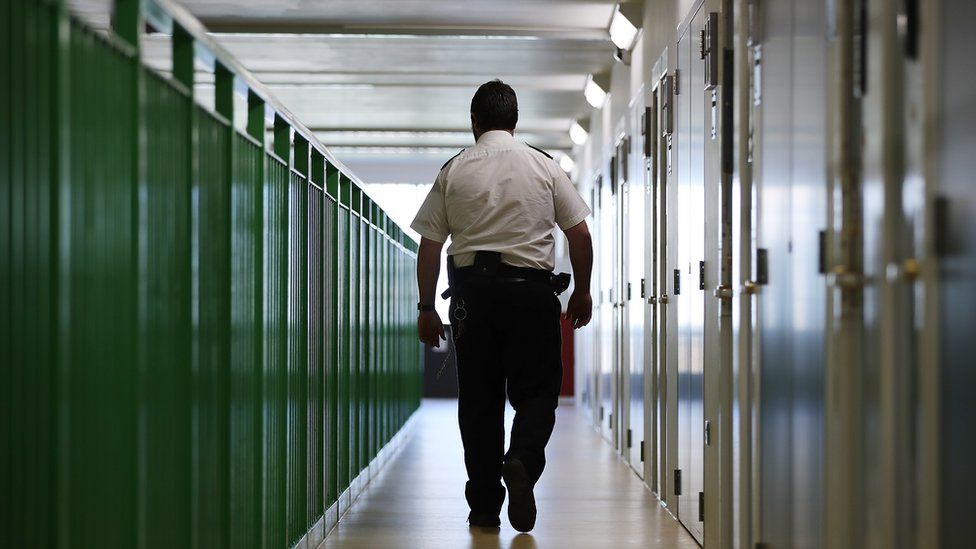 At least 15,000 mobile phones or SIM cards were confiscated in English and Welsh prisons last year, equivalent to one for every six inmates.
Phones are used by some prisoners to order drugs and co-ordinate criminal activity inside and outside jail.
A penal reform charity said the government had failed to tackle the root of the issue.
The Prison Service said improved security measures had led to more confiscations.
The BBC's Shared Data Unit compared figures for the period 2010-2014 and 2017 from ministers' answers to written questions in Parliament, Freedom of Information requests to prison services in Scotland and Northern Ireland and published prison population figures.
Our analysis of official data found:
The number of confiscations increased from 9,600 in 2014 to at least 15,000 last year, a 56% rise.
In England and Wales, there was an increase from an average of nine discoveries per 100 prisoners in 2011, to at least 18 per 100 prisoners in 2017 (the equivalent of one in six)
In contrast, the rate of discoveries in Scotland dropped from an average of six per 100 prisoners in 2012-13 to four per 100 prisoners in 2017-18
In Northern Ireland, the rate of discoveries has dropped from an average of 1.9 per 100 prisoners in Mar 2012 to 1.8 per 100 prisoners in 2017
A former prison worker, who spoke to the BBC on condition of anonymity, said: "They [mobile phones] are a huge problem - they make getting any kind of contraband in very easy.
"They can sit all night with unlimited access to the internet and make voice calls.
"The big part of being in jail is you are cut off and denied your liberty. With the spread of mobile phones that's completely irrelevant.
"It's difficult to keep order in jail because staff are outnumbered. If prisoners don't take the authority seriously, it makes a joke out of the whole system.
"People see [videos posted on social media from inside jail] and they are less frightened of jail, they think their mates are having a whale of a time."
In January, London nightclub acid attacker Arthur Collins, ex-boyfriend of reality TV star Ferne McCann, had eight months added to his 20-year sentence for the attack for secreting a phone, two SIM cards and two memory sticks into jail inside a crutch.
The National Crime Agency says one in 13 inmates have organised crime links.
It estimates some of these 6,500 offenders continue to be involved in criminality behind bars, including controlling the supply of banned items like phones, and illegal items like drugs and weapons, which are blamed for fuelling instability.
Frances Crook, chief executive of The Howard League for Penal Reform, said the only way to control the illegal trade inside was to tackle its causes.
She said other pay phones available behind bars did not allow inmates privacy to talk to their families, were always in demand and were charged at a rate that was too expensive.
"If prisoners had better access to phones, the massive trade in smuggling them in would stop and staff could concentrate on stopping the inflow of phones being used for crime," she said.
Private prisons had "led the way" by providing phones in cells with cheap providers where calls may be monitored and security risks managed, she added.
Peter Dawson, director of the Prison Reform Trust, said: "Knowing how many phones are seized is an important part of the story, but what's unclear is how many of the calls made on illegal mobiles in prisons are by people trying to stay in touch with their families.
"When a person can spend their entire week's prison wage in just 30 minutes on a prison phone, and has one hour a day when they can join the queue to do so, it's not surprising that the demand for illicit handsets is high."
The Prison Service said: "These statistics show that we are successfully stopping contraband from entering the prison estate.
"However, we acknowledge that more must be done and as Minister [Rory] Stewart has previously stated, there are only five ways in which contraband can be smuggled into prisons and we are taking steps to tackle all five.
"We've addressed flying contraband in by tackling drones, the throwing over of items by the use of nets and searches, the dragging in of items by identifying wires and the posting of drugs by photocopying letters.
"We are also taking decisive action to find and block mobile phones, including a £2m investment in detection equipment. We have legislated to stop phones from being used in prisons."
The Shared Data Unit makes data journalism available to news organisations across the media industry, as part of a partnership between the BBC and the News Media Association.