Ten industrial sites that shaped England used in history campaign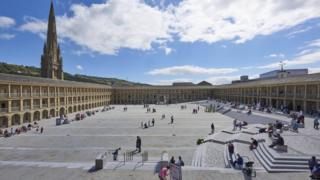 Ten industrial sites that helped shaped England have been chosen for a campaign to bring the country's history to life.
The Piece Hall in Halifax, Cromford Mills in Derbyshire, Castlefield Canal Basin in Manchester and the Lloyd's building in London made the list.
Tristram Hunt, director of the V&A Museum, selected the places from more than 700 nominations from the public.
It is part of Historic England's A History of England in 100 Places campaign.
Cromford Mills near Matlock is home to the first water-powered cotton spinning mill