Thames Valley and Hampshire police to cut dog unit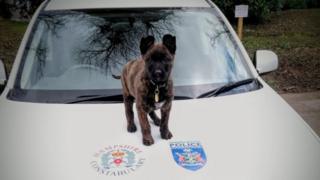 The posts of 15 police dog handlers will be scrapped from two forces due to funding cuts.
Thames Valley Police said its dog section - which is shared with Hampshire Constabulary - will be reduced from 59 officers to 44.
Assistant Chief Constable Dave Hardcastle said the reductions would not impact on the service provided by the forces.
Hampshire Police Federation previously described the cuts as "devastating".
The BBC revealed the joint unit would be reduced in March, but the forces confirmed the number of posts set to go on Thursday.
ACC Hardcastle said "no deadline" had been set for "reaching the reduced numbers" target, but added numbers in the department would fall through retirements and resignations.
The unit "played an active part in the security" of the royal wedding in Windsor, he said.
"Our dog unit is, and will continue to be, a valued resource that is key to the operational tactics that we have available to deploy," he added.
'Understaffed by 100 officers'
The dog unit is currently made up of six sergeants and 53 constables, all of whom are expected look after at least one general purpose dog.
This will be reduced to 40 constables and four sergeants.
Some officers will have a second dog with specialist capabilities, such as victim recovery or search skills.
When a dog handler retires their dog can be passed to another handler, transferred to another force or retired.
The force currently has 4,202 officers and is understaffed by about 100 constables, account statements reveal.
A budget of £405m for Thames Valley Police was approved in January amid further cuts of £14.3m until 2020/21.