Holloway carer death: Man, 95, held over 'murder'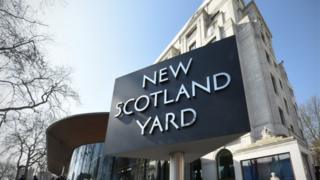 A 95-year-old man has been arrested on suspicion of murder after a female carer died in north London.
The victim, 61, was taken to hospital with head injuries at 07:10 BST on 24 May. She died the following day.
A murder investigation has been launched by the Metropolitan Police following the incident in Holloway.
The man, who is believed to suffer from dementia, was taken to hospital pending a "transfer to a location where his complex needs can be managed".
'Devastated'
Detectives say the woman's next-of-kin have been informed, and they are not looking for anyone else in connection with their investigation.
The woman who died was an employee of a care agency commissioned by Islington Council.
Two ambulance crews arrived at his first-floor flat in Islington, north London, on Thursday morning after a neighbour heard a scream at around 04:00 BST.
Colleagues said they were left "devastated" after the woman, 61, died in hospital on Friday morning.
Max Wurr, senior spokesman for the woman's employer, said: "We were devastated that a member of our care team in Islington has died in hospital after paramedics were called to the home of one of our customers overnight."
"Our thoughts are with her family and friends at this desperately sad time."
A post-mortem examination will be held in due course, the Met said.