Abuse inquiry seeks Peter Ball statement from Prince Charles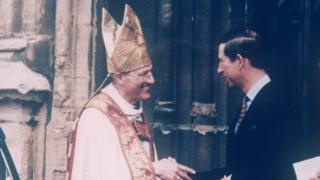 The Prince of Wales has been asked to give a witness statement to a public inquiry about a paedophile bishop who was jailed after abusing young men.
Peter Ball, 85, was jailed for 32 months in October 2015 for offences against 18 teenagers and men.
The former Bishop of Lewes and of Gloucester carried out the abuse between the 1970s and 1990s.
Prince Charles exchanged a series of letters with Ball, whose Gloucester diocese covers his Highgrove home.
Clarence House said the prince had "made it clear the he was unaware of the extent of Mr Ball's behaviour".
It added he was "more than willing to provide context on his contact" with the former bishop.
Ball was released from jail in February 2017 after serving 16 months.
The handling of allegations against Ball is now being examined by the Independent Inquiry into Child Sexual Abuse (IICSA).
At a hearing on Wednesday, counsel to the inquiry Fiona Scolding QC said statements had been requested from the prince and his principal private secretary.
A transcript posted on the inquiry website said: "The Prince's solicitors have indicated their client's willingness to assist us and have raised a number of important issues for us to consider.
"This has led to lengthy and complex discussions and we are currently considering the latest points they have raised.
"We hope to be able to provide an update to core participants on this in the next couple of weeks."
'Former local bishop'
Lawyer Richard Scorer, from Slater and Gordon, who is representing complainants at the IICSA, said: "It is imperative that the inquiry leaves no stone unturned in its efforts to establish how Peter Ball was able to evade justice for two decades.
"If this means calling Prince Charles and other prominent establishment figures as witnesses then the inquiry should do so without fear or favour."
In a statement released following the hearing, Clarence House said: "IICSA has asked The Prince of Wales if he can help the part of their inquiry that deals with Mr Peter Ball.
"Whilst The Prince has made it clear that he was unaware of the extent of Mr Ball's behaviour, he has indicated that he is more than willing to provide context on his contact with Mr Ball, as his former local Bishop, if that would help the inquiry."