House of Fraser: Reaction to 'devastating' closures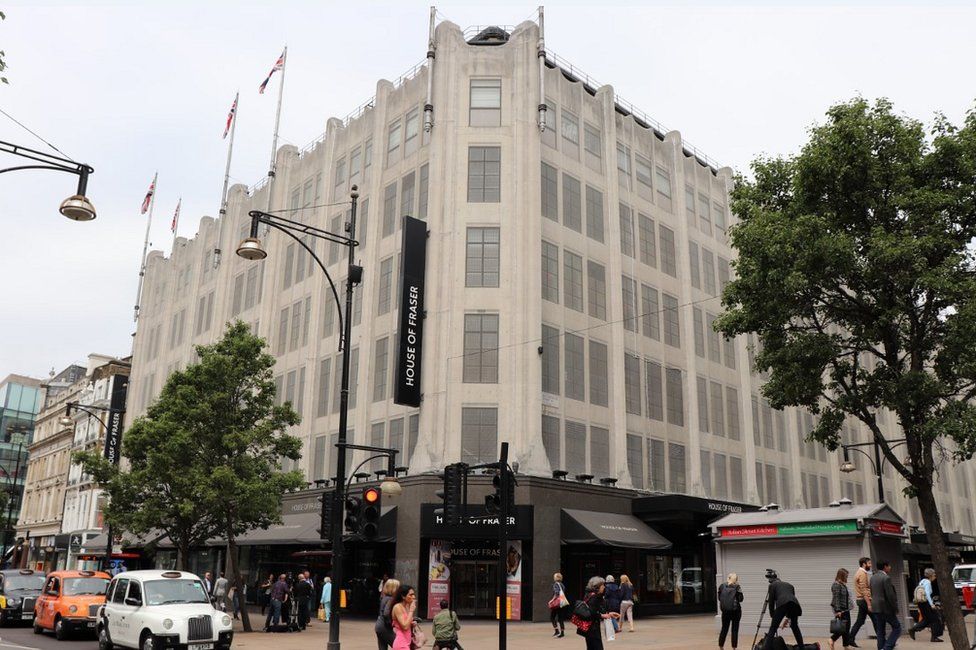 For decades they have stood as bastions of the High Street.
But as House of Fraser announces it is to close 31 of its 59 stores, many towns and cities across the UK face losing a major shopping draw and, in some cases, a piece of their history.
The company that grew from a shop in the centre of Glasgow nearly 170 years ago to a retail empire of more than 100 department stores says it "urgently needs to adapt" to "fundamental changes" in the retail industry.
The BBC went to hear what the closures will mean to shoppers across the country.
'It's only really for the tourists'
Inside House of Fraser's flagship store on Oxford Street in London's West End, it would seem to be business as usual.
Shop staff stood at the numerous perfume counters at the front of the store, or moved around the multi-storied building helping customers.
However, they attended a meeting this morning to be told the shop they work in would be closed by early next year.
One, who asked not to be named, said there was shock, adding there was "not a great feeling amongst staff".
The shop was the second department store to open on what is one of the world's most famous shopping streets.
The huge 179,000 sq ft (16,630 sq m) building was first occupied by DH Evans in 1879 and rebranded as House of Fraser in 2001.
One shopper, Sophie, said that while she was "sad" the famous brand would no longer be on Oxford Street, she expected it to be replaced.
"It seems to be how it is with shops around London at the moment."
Another customer, Michael Hambelton, said he was not surprised since products were so readily available online.
"I don't see the point of having a flagship store on Oxford Street these days, it's really only for the tourists."
House of Fraser was Plymouth's landmark store after the city was flattened during World War Two.
The new building was considered by many as the most glamorous place to shop in the city.
Today though, the store previously known as Dingles is to become another casualty of the city centre's decline.
Modern market pressures risk leaving Plymouth's centre in a desperate state, with several big chains already closed and yet to be replaced.
Shopper Linda from Exeter said it was "always the place to go" in Plymouth.
"When I was a child and my grandparents lived there, we always went into town and went into Dingles.
"It was the quality store in Plymouth."
It's thought about 250 jobs in the city are to be affected with direct job losses at the store and also the knock-on effect on adjoining stores.
George Cowcher from Devon Chamber of Commerce said there needed to be a "fundamental think through" in how the city goes forward.
"It's a massive blow for Plymouth."
'Part of the city's fabric'
For 131 years, Beatties has occupied a prominent position in the heart of Wolverhampton.
The Art Deco building, on the corner of Victoria Street and Darlington Street, is "part of the fabric" of the city.
Beatties began life as a draper's shop in 1887 before expanding over the decades into a department store. It remained in the hands of the Beattie family until 2005, when House of Fraser took over.
Its closure has been described as "a devastating blow" which leaves 279 jobs at risk.
Ninder Johal, a former chamber of commerce president, said: "The building is part of the fabric of Wolverhampton - it's a place that draws people and other retailers into the city."
Janet Nicklin, 90, from Essington, Staffordshire, said she had shopped at Beatties for more than eight decades - first visiting with her grandmother when she was three years old.
She said: "Me and my family are devastated. I think the heart will be ripped out of Wolverhampton."
Hira Lal and Khoshiq Patel, who run Temptation Menswear in the Wulfrun Centre, said the closure would "have a big effect".
Mr Patel added: "I shop there and I will miss it."
'It's where we used to meet the boys'
Sitting in the heart of city on Princes Street in Edinburgh, the business became a House of Fraser store in 1953 after the building was acquired from the Binns Group.
At the time it comprised 50 departments over seven floors and spanned more than 69,000 sq ft of prime retail space, and it was not until 1981 that it was rebranded as Frasers.
And so Binns is how many in the city still choose to remember the store, which will close for good in early 2019.
"In the 60s when you had a date you used to meet the boys here at Binns," said shopper Carol Larkin.
"I'm sure a lot of people will have good memories of Binns. I never used it to shop there as it was too expensive for me."
John McKenzie said: "Since a small child I've always known it as Binns. It's an icon. It's old now. It's not modern so people just don't go in."
'It's the only decent store left'
The news of the closure of Binns - the House of Fraser store in Darlington - comes just two weeks after the announcement the town's Marks & Spencer is to shut.
Binns, which has been trading since 1922 and was refurbished in the mid-80s, is very much a feature of the town.
Local MP Jenny Chapman described the news as "bitterly disappointing", and shoppers have also expressed their dismay.
Debbie Barron from Newton Aycliffe said: "My mum has been coming here every Saturday for the last 40 years.
"She buys lots of things in there, she spends a fortune, and she loves the cafe as well."
Her husband, Colin Barron, said: "It will have a huge negative impact on town. A lot of people come in for this store. It's the only decent store they have left."
Julia Welburn from Darlington said: "This store is Darlington. It's been here since I can remember."
Glenys Brown said: "I'll still be sad to see it go. It will make this corner look derelict."
Seventeen-year-old Caitlin Swainston said: "I go in there quite a lot. It has make-up, perfume, skincare and bags that other shops don't have. It's going to leave nothing for the town."
'It's not what it used to be'
Step out of Hull railway station and one of the first sights is a towering 1950s building, home to the city's long-established House of Fraser.
For more than six decades, the store on Paragon Street has been a gateway to the rest of the city's high street offerings.
It rose up from the ruins of World War Two, only to be defeated in the battle of the High Street and online shopping.
The shop started life as Hammonds in 1821, and was eventually taken over by the retail giant in the 1970s.
Its closure has been described as "a major blow" by the Hull & Humber Chamber of Commerce, while the local authority said it was "sad and very disappointed".
For one shopper, the demise of the Paragon Street store was of no surprise.
Sheila Walker, 60, from Eastrington, said: "It's not the House of Fraser that it used to be years ago. It's really gone downhill.
"It used to be absolutely buzzing. But you go in now and there aren't that many people in. It's not the same. It's a bit boring."
Trader Andrew Gardiner, who sells ice creams in front of the department store, said he feared it would become another empty unit in the city attracting rough sleepers in the doorway.
'It will leave a big hole'
Gloucestershire Lib Dem leader Paul Hodgkinson is concerned at the news that House of Fraser is going to close its department store in the centre of Cirencester.
The 170-year-old building is a focal point for shoppers in the Cotswold market town, going back to when it was originally Frederick Boulton, before becoming Rackhams and then finally being acquired by House of Fraser in 1975.
"It will leave a big hole in the marketplace. This shop has been there for years and years," Mr Hodgkinson said.
"I'm sad and I think a lot of residents and shoppers will be sad too. We need to reach out to retailers to find something special to take its place."
Hilary Stewart of ladies' boutique Jungle, located in nearby Black Jack Street, echoed his feelings.
She said: "Frankly, it's the destruction of the High Street. It's going to be a difficult space to fill. I think it's going to have a devastating impact on Cirencester."
Related Internet Links
The BBC is not responsible for the content of external sites.