Sailor Sir Robin Knox-Johnston had appendicitis on world voyage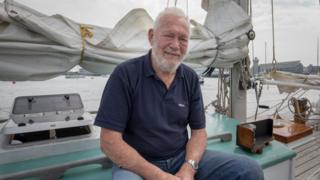 Sailor Sir Robin Knox-Johnston has revealed he had appendicitis on his famous solo round-the-world voyage.
The 79-year-old is marking the 50th anniversary of setting off from Falmouth to become the first person to perform a single-handed non-stop circumnavigation of the globe.
Sir Robin said he was "about 10 days from land" when he became doubled up in pain in the cockpit.
"Had I been close to a port, I would have gone in," he said.
Sir Robin, from Portsmouth, spent 312 days at sea on board his 32ft (9.8m) boat Suhaili after setting sail from the Cornish port on 14 June 1968.
He survived on tinned food and collected rain water but when he discovered he might have appendicitis, Sir Robin "didn't eat very much at all".
"I didn't have the drugs you need to keep it under control so I went on a sloppy diet.
"Very soft food, like porridge and stuff like that. I didn't eat meat. I was doubled up in the cockpit for three days and in a lot of pain. And then it began to fade," he said.
Doctors confirmed Sir Robin did have appendicitis more than a year later when he had his appendix taken out.
The sailor said he would have left his boat to get treated had he been close to land - despite the fact it would have ruined his record attempt.
"It may sound funny, but I don't risk my life stupidly. To me, this voyage wasn't stupid. This was perfectly possible.
"I was probably going to die. I don't know why I didn't."
On Thursday, Sir Robin led a Parade of Sail around Falmouth Harbour in his historic yacht Suhaili to mark the anniversary.
The 2018 Golden Globe Race - recreating the original race Sir Robin competed in back in 1968 - begins on 1 July.