Christ's Hospital School: Rape accused tells of affair with 17-year-old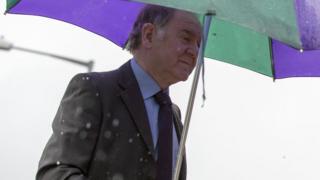 A former private school teacher accused of raping a 15-year-old girl has told of an affair with another student.
James Husband, 68, recalled the consensual liaison with a 17-year-old girl at Christ's Hospital School while giving evidence in his trial.
Hove Crown Court heard he was married and his children attended the school during the "spur of the moment" affair.
He and co-defendant Gary Dobbie, ex-head of house at the Horsham school, both deny sexually abusing pupils.
Mr Husband, of Wigginton in York, denies four counts of rape and five of indecently assaulting a different pupil when she was as young as 14 between 1990 and 1994 while he taught at the prestigious school.
Mr Dobbie, 68, of Albi in France and formerly of Hereford, faces a string of allegations against six boys and two girls as young as 12 between 1998 and 2001.
He denies 12 counts of indecently assaulting four boys and two girls, attempting to indecently assault a boy and two counts of indecency with a child.
He was teaching at independent Shrewsbury School, Shropshire, at the time of his arrest in 2016.
Mr Husband left his job as a history teacher when it emerged he was having a consensual affair with the 17-year-old pupil who was not underage and is not a complainant in the case, jurors were told.
Giving evidence, he told the court there were several instances with the girl - from holding hands and kissing to sex - but said he did not consider it a relationship.
During cross-examination, the court heard him describe the moment he kissed the student on the lips after a disco at night in the school grounds.
He said: "I can see her in my mind's eye looking up at me. I can remember the kiss.
"The look on her face suggested that she wanted me to.
"I wanted to kiss her."
In a diary entry read to the court, the girl said: "Told too many people at school then decided to go for it. The fling.
"So got off with him on Saturday night. The most amazing thing. Happy."
Mr Husband later conceded to the court that he had had sex with two 17-year-olds.
Addressing the charges involving the other girl which he denies, claiming they had consensual sex once when she was 16, he said: "I don't know why [the alleged victim] has brought these allegations against me."
Jurors previously heard he had told the girl when she was 15: "It's OK, I've had a vasectomy," before raping her.
The trial continues.