Man arrested over Southgate Tube station explosion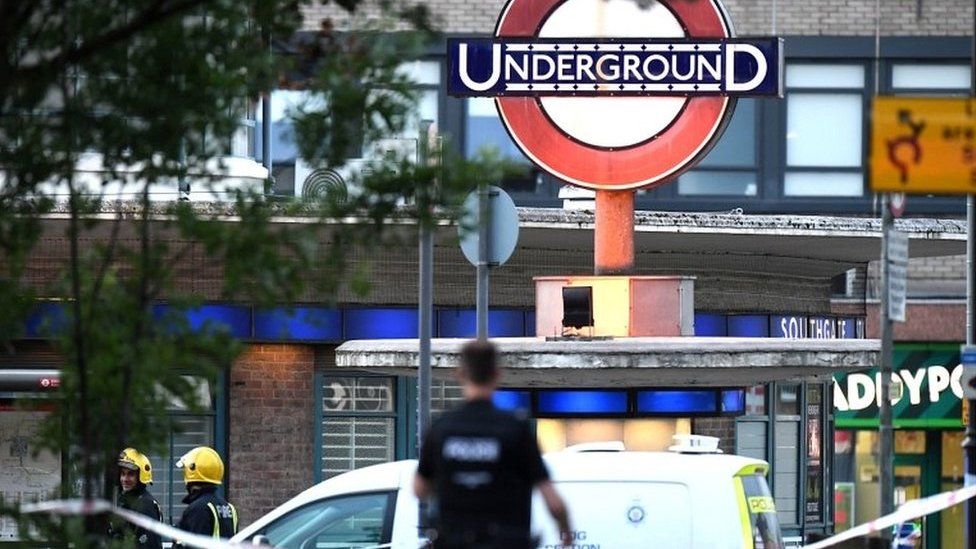 A 23-year-old man has been arrested after an explosion at a north London Tube station left five people injured.
Witnesses described smelling "burning rubber" and seeing "six-foot flames" at the entrance to Southgate Underground station in Enfield on Tuesday evening.
Police believe the explosion was caused by a faulty drill battery.
The man was held on suspicion of an act likely to cause an explosion to injure or damage property, and endangering safety on the railway.
The station was shut and a cordon set up after the explosion occurred at about 19:00 BST.
London Ambulance Service said they treated three people at the scene for minor injuries while two others were taken to hospital.
James Ayton, 34, from Southgate, was on the "packed" escalator when he saw a "quick burst" of flames at the top.
He said they were "six foot plus" and everyone "legged it" upon hearing a "rapid whooshing sound".
"The Tube had just unloaded. A few people got trampled on the escalator. There was screaming."
He said he saw a Tube worker pick something up that was on fire and extinguish it, but added: "I think that was secondary rather than the cause."
Finance worker Haluk Ozkan was about to get on a bus outside the station when he smelt something "like burning rubber".
"We then saw people rushing to get out of the station. Not necessarily running or panicking, but moving quickly," he said.
"Then my partner saw a station staff member pointing a fire extinguisher at something and heard it go off, but we didn't see what it was directed at."
The station has reopened with services running although some officers remain in the area to provide reassurance to passengers, British Transport Police said.
London Mayor Sadiq Khan said the explosion had been "confirmed as non-suspicious" and praised the emergency services "for a swift and professional response".
The arrested man, who is from Enfield, has been released under investigation pending further enquiries.
Related Internet Links
The BBC is not responsible for the content of external sites.