Thames Valley and Hampshire police call system delayed again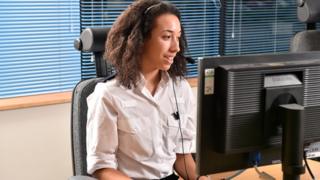 A "cutting edge" computer system to be used to deploy police officers to emergencies has been delayed again and gone £5m over budget.
Thames Valley Police and Hampshire Constabulary have no date for the system's launch, despite planning to go live with it earlier this year.
The software, to modernise how police deal with 999 calls, is being tested to avoid a "TSB type situation", where the bank suffered a major IT failure.
The budget for it has risen to £32.1m.
The "contact management platform" (CMP), developed by Microsoft, will be the first used by UK police forces when it goes live.
The system will replace over 20 systems across both forces and give call handlers instant information on screen about a caller, recent crimes in an area and other data.
It will also recommend the most appropriate police resources to deploy, but "rigorous testing" has delayed the project twice since it's initial launch date in March.
Chief Constable Francis Habgood told a police and crime panel committee the force needed to be "confident" to launch the system.
He added: "There are some systems that you are introducing which you could say look, we can take the risk.
"This is not one of them, because actually what we will get is a TSB type of situation where people won't be able to get through and we will not be able to manage those calls so we have to be confident in this."
Anthony Stansfeld, police and crime commissioner, told the panel the system had cost "much more than expected".
"I think it will be a very good system that will be adopted throughout the country when it comes in," he added.
The BBC understands other forces could adopt the system, which has the potential for crimes to be reported online.