CO₂ shortage: Pubs struggling to get hold of beer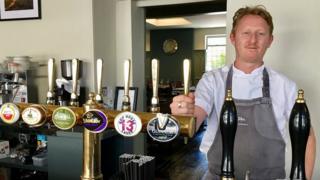 Pubs and off licences are struggling to get hold of beer because breweries are running short of CO₂ gas.
They say distributors have run out of some big name brands, with one landlord believing "in a few weeks Fosters may be the only beer available on tap".
Wholesaler Booker announced it would be rationing beer and cider while pub chains have reported shortages of John Smith's and Strongbow.
Meanwhile, one gas provider reported running out of supplies.
Peter Brennan, proprietor of The Black Pig in Tunbridge Wells, uses Bookers but is also having supply issues with his brewery.
He said: "Our beer distributors have run out of Heineken, Amstel, Birra Moretti and Strongbow, including the fruit ciders.
"They are our most popular beers so it's a massive issue for us.
"We've heard in a few weeks Fosters may be the only beer available on tap."
Britain's biggest pub chain runs low on beer brands
Beer sales rationed amid CO₂ shortage
The pub has separate CO₂ suppliers for the all the gas assisted pumps, including those for soft drinks.
Mr Brennan said: "Normally we get three or four bottles of CO₂, but our guy could only give us one this week.
"We know some pubs have been offering hundreds of pounds to suppliers to give them extras canisters.
"Imagine if England gets through the next stages of the World Cup, and there's only one pub in the area with beer on tap. That's where everyone will go."
Mark O'Neill of The Beer and Gas Man, who provides CO₂ to about 750 customers from two depots in the West Midlands, has ran out of supplies on Tuesday.
He said: "I feel awful. It's the first time in the 12 years we've been doing this that we've run out."
Ei Group, which has 4,500 pubs and bars, said some outlets are running out of certain brands, but has not disclosed which.
Some Wetherspoons were also short of John Smith's and Strongbow.
Holden's Brewery in Woodsetton, Dudley, ran out of CO₂ on Friday and has stopped production, the Express & Star reported.
The matter was raised with Theresa May at Wednesday's Prime Minister's Questions.
Ian Austin, MP for Dudley North, said: "Holden's in Dudley has been bottling beer continuously for 75 years, even through the war, but along with other producers, it has had to cease production this week because of the European CO₂ shortage.
"What are the Government doing to sort that out, so that we can all enjoy a beer during the World Cup?"
The Prime Minister said it was "a commercial matter for the companies affected".