2018 World Cup: Flying the flag for England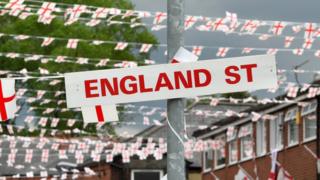 Before the start of the World Cup it is fair to say there wasn't much hope that England would do well, which was reflected by the lack of flags being flown across the country.
Following the team's lacklustre performance at Euro 2016, when they were humiliatingly beaten by minnows Iceland, it is fair to say that there was little optimism.
Add in the fact that the squad is also inexperienced and one of the youngest in the tournament, many saw this World Cup as a lost cause.
However, following two wins, including an emphatic 6-1 defeat of Panama, and the sight of the Germans - who have often prevented England's progression in major tournaments - failing to reach the last 16, suddenly expectations are high again.
The Three Lions play Belgium in their last group game on Thursday evening, having already qualified for the next round. And so crosses of St George can be seen fluttering across the land as England enjoys both warm weather and the giddy thrill of World Cup expectation.
In Oldham, Wales Street has been unofficially renamed England Street and its residents have decorated the road in honour of the Three Lions. Perhaps they knew something others didn't, as this patriotic effort was made before Gareth Southgate's men had kicked a ball in anger.
In Bermondsey, south London, England fan Chris Dowse, 39, has organised for hundreds of flags to be displayed at the housing estate he lives on.
While in Cherhill Close, Clifton, Nottingham, Ryan Beales, has promised his neighbours he will put up more flags on their street every time the Three Lions win.
Covering Albany Towers in Hove, in East Sussex, is an England flag that was hung on scaffolding while building work is carried out.
Plenty of pubs are also getting in on the action, like the Tom Hoskins in Leicester, which appears to have put up the flag of every World Cup team, as well as plenty of crosses of St George.
On a hillside in Chelmorton, Derbyshire, stones have been sprayed white and moved to create a St George's flag and the word "England".
The landowners have put the display in place for every major tournament England have played in since 2006.
And so while lots of might be dreaming of World Cup glory, England could of course only have two more games to play - and we'll have to wait four more years for another chance at sporting immortality.
But for now it seems a nation is taking the advice of its wise and increasingly popular boss Southgate: "Always enjoy the good moments in your life because you never know what's around the corner."