East of England Ambulance Trust 'requires improvement'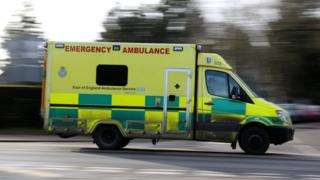 An NHS ambulance trust still "requires improvement" after failing to meet response targets over the winter period, inspectors have found.
A report by the Care Quality Commission (CQC) said staff at the East of England Ambulance Service (EEAS) "did not feel valued" after "an exhausting winter".
Inspectors praised an "escalation policy" introduced to minimise hospital handover delays.
The Trust said it was "pleased" the CQC recognised improvement in some areas.
The overall rating for the service remains unchanged since the last report in April 2017.
Chief Executive Robert Morton claimed the CQC inspected the Trust at a time when "staff were extremely tired and under pressure".
"There will always be room for improvement. We are aware of the many challenges we face here in the east," he added.
EEAS is one of 10 ambulance trusts in England and serves six million people across Bedfordshire, Cambridgeshire, Essex, Hertfordshire, Norfolk and Suffolk.
The trust, which employs around 4,000 staff and 1,500 volunteers, was inspected by the CQC in March.
Mr Robert Morton apologised in May after it was revealed that 22 patients had suffered some form of harm - three of them severe - in ambulance delays caused by "unprecedented" winter demand.
The latest report found the trust to be outstanding for its caring services, but requiring improvement for safety, leadership and response times.
The chief inspector of hospitals Professor Ted Baker said the CQC was concerned that staff morale was low.
"People working at the trust described a culture of late shift finishes, frustration at not being able to provide the service they wanted to and disengagement between front-line staff and the senior management team," he said.
"People said they did not always feel valued, particularly after what had been an exhausting winter."
He added that staff were "overwhelmingly caring and dedicated to providing the best care they could to patients".
The CQC praised a "clinical app" devised as a guidance resource to staff, and the introduction of an "escalation policy" to reduce handover delays.