World Cup 2018: The football streets of England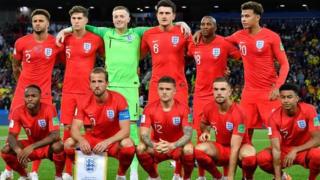 Some of the biggest names in English football have streets named after them, Brian Clough and Alan Shearer to name but two. But what of those roads that coincidently share their name with an England star?
BBC News has taken a tour of the country to see if World Cup fever is unusually torrid in, say, Kane Close or Pickford Way.
(Gareth) Southgate Street, Gloucester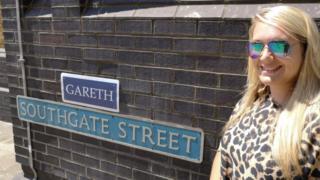 The England boss can seemingly do no wrong at the moment, especially if you look at how #GarethSouthgateWould has captivated Twitter.
Maybe that's why a mystery England fan decided to honour the waistcoat-wearing wonder by adding a "Gareth" to Southgate Street in Gloucester.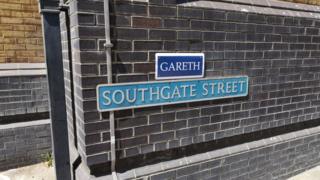 Passer-by Megan Wheeler said she would like to see the name adopted officially and permanently, especially if England continued to do well at the World Cup.
"You do see street names associated with famous people," she said. "I'd like to see it stay. Why not? It's fun."
However, she admitted she was not the biggest football fan in the world.
"I actually slept through the game against Colombia, but I'll possibly be watching on Saturday. We have got quite far.
"This is the [quarter-final], isn't it? You can't ignore that."
Walker Road, Newcastle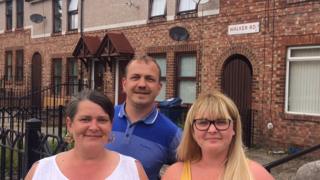 The traffic rattles busily along this street, one of the football-mad city's main arteries.
A couple of England flags hang from upstairs windows, flapping in the breeze, and speaking to some of the residents there are hopes the team can bring the trophy home.
Sharing a surname with a Geordie hero of England's recent past, it's perhaps to be expected Cheryl Shearer is more familiar with the exploits of former skipper Alan than current defender Kyle Walker.
"There are a lot of flags on one of the next streets, so people in the area are backing them," she says.
"I think there might be more local support if players from Newcastle were involved," her friend Linda Parkinson points out.
"But you hope they can win it."
Anthony Kerr agrees: "It's the furthest they've gone in a long time. I hope they can keep it going.
"It was like a ghost town the other night. I think everyone must've been watching the match."
Trippier Road, Eccles, Greater Manchester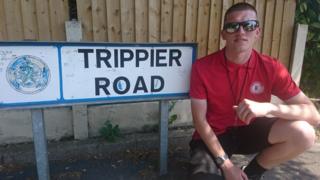 The mood on this street, which is only a few miles from Ramsbottom where Kieran Trippier grew up, is decidedly upbeat, with 23-year-old school sports coach Sam Smedley believing that England can go all the way,
"It is great to be working in a street with the same name as an England player," he said.
"I would love to see him bring the cup to our school, as he is from Greater Manchester.
"The kids would be really excited; they are loving the World Cup.
"I think we have a good chance of winning."
Young Street, West Bromwich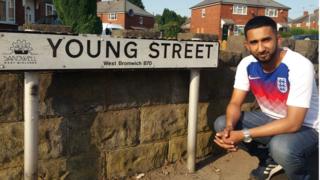 Not only is football crazy Azad Miah following the World Cup with huge interest, he's also a fan of Manchester United, the club Ashley Young has played for since 2011.
The 25-year-old, who works for a bank, has lived on Young Street for five years.
"I play left back and that's where he's ended up playing, so that's my relation to Ashley Young," he said.
"If we were to win the World Cup and he came to this this street, that would be epic."
And his prediction for the outcome of the tournament?
"It's coming home!"
Henderson Avenue, Guildford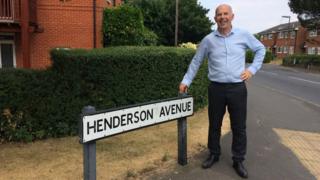 There doesn't seem to be much excitement about the World Cup in this corner of Surrey, according to Paul Banks.
The 52-year-old accounts clerk said: "There's no street parties or anything really - it's pretty quiet around here, actually."
He admitted that Guildford isn't exactly a football town, but believes the enthusiasm levels might be boosted if England make the semi-finals.
"I think it all depends on Saturday's match, really. I think it might progress but I haven't seen it on these roads or even locally.
"I think people in this area are a bit pessimistic at the moment."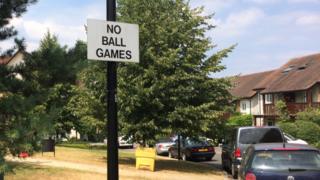 If another Jordan Henderson is living on this street, though, he wouldn't be able to play football here because no ball games are allowed on Henderson Avenue.
"That's a real shame, because there seems to be a lot of restrictions for the children around here for allowing them to play on the streets," said Mr Banks, adding that he'd like to think that England's success at the World Cup might encourage a few youngsters to get out and kick a ball about.
Maguire Drive in Camberley, Surrey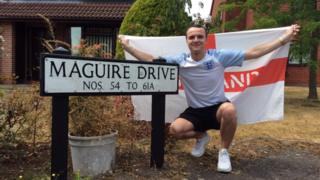 On this quiet cul-de-sac is a house where the England flag is flying, the home of 19-year-old Joshua Strong who lives with his parents and two brothers.
"Me and my grandad actually think we are going to win it," he said.
"I think we will get to the final and we have a chance.
"I really like Southgate. I like his passion; he makes the players feel happy and comfortable."
The Chelsea season ticket-holder, who attends Bournemouth University, added he thought Harry Maguire had been "solid" alongside John Stones in England's back three.
"It's been a good tournament. It was quite negative at the start about football hooliganism and VAR, but it's been the best one since I have been alive.
"There's a whole hype around the country."
Sterling Road in Kidlington, near Oxford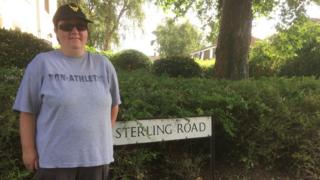 While this part of the country isn't traditionally a hotbed of football fanaticism, it wasn't long before BBC News bumped into 38-year-old Liverpool and Oxford United fan Annie Orr.
How does she feel about this road sharing its name with the Manchester City forward?
"Sterling Road, Raheem Sterling - I've never really thought about it in that way before," she said. "It's quite cool."
"I don't really like him because I support Liverpool. I liked him when he was at Liverpool but I went off him when he went to Man City. He's still a good player."
Stones Close, Plymouth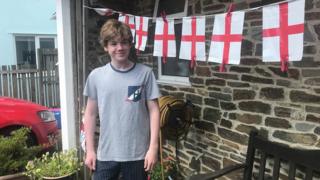 In this corner of Devon, excitement is building ahead of England's quarter-final with Sweden.
George Mercer, 16, who has lived on the street with his family his whole life, hadn't previously made the connection with the England and Manchester City central defender John Stones.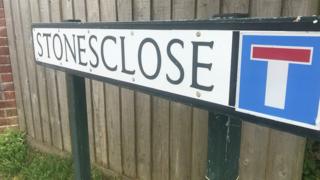 "I hadn't paid attention to our street being a 'Stones' street at all, but that's pretty cool," he said.
"The last game was so tense, my mum had to step outside because it was so close. There seemed to be a lot more Colombian fans at the game then English.
"I'm going to watch the quarter-final at home. I usually invite some friends around and we all watch it together.
"I've been watching most of the World Cup games which affect England, so I've watched the Croatian games, as we could meet them in the semi-final.
"England are going to make it to the final."
Kane Close in Coalville, Leicestershire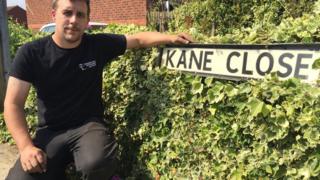 Trainee mechanic Stevie Rawlings says he's been enjoying the World Cup, although he thinks the best might yet to be to come from Gareth Southgate's players
"I've watched pretty much every England game possible," the 32-year-old said.
"England's performance has been very mixed. Sometimes they can show what they are actually capable off, then they will show you a side that will turn a nation against them. It's been a crazy World Cup."
But what does he think about England's talismanic striker Harry Kane?
"I'm not one of his biggest fans, probably because I'm a Leicester City supporter," he said.
"But you can't knock his skills and he tries his hardest. He does what every England player should do."
Pickford Way, Swindon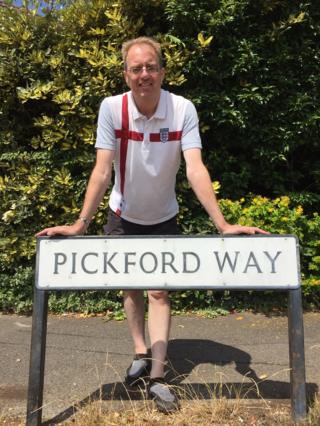 Paul Garratt, who's lived on this road for 12 years, had already made the connection with the England goalkeeper Jordan Pickford.
"I'm a football fan so it had occurred to me I'm living on a street with the same name.
"He's an excellent goalkeeper, and only going to get better. A talent, no doubt about it. I run a fantasy football league in my spare time and he's someone I should have bought way back, I think."
The semi-retired 53-year-old has high hopes for the rest of the tournament.
"The excitement is starting to build now," he said.
"There's the tension first, and now we're in the final eight and you think it's not far away now. We could really do something."
Lingard Close, Birmingham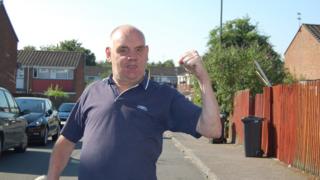 Diehard England fan Peter Jackson, 58, who has lived in Lingard Close in the Birmingham suburb of Nechells for 40 years, says he's amused at the connection with Jesse Lingard.
The Birmingham City supporter said: "He is superb and he hasn't played too bad - he scored a cracking goal in our World Cup match against Panama.
"He was also great when he was on loan at Birmingham City and scored four goals in his debut game."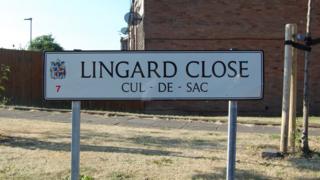 The carer, who proudly hangs the St George's flag from his home, is hopeful that England will bring the World Cup home.
"England have been magic and we are going all the way," he said. "If the trophy does not come home something is wrong, as all the big teams are being knocked out.
"I hope Lingard scores the winner in the final."
Dele Alli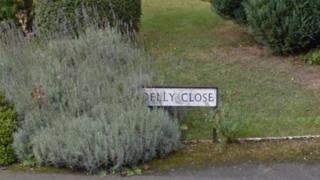 There are no roads in England that share their name with the 22-year-old Tottenham forward.
Delly Close in Witney, Oxfordshire, is about as near as we could find. Close, it seems, but no cigar.
Let's try not to get too carried away, but imagine if he scored the winning goal in a World Cup Final? Surely then it wouldn't be long before he joined the ranks of Brian Clough and Alan Shearer in having a road named in his honour?
Maybe it could even be called Dele Alli Alley?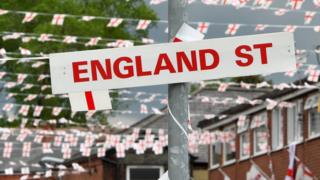 Coverage of England's quarter-final with Sweden begins on BBC One at 14:00 BST on Saturday.