Chris King's double hand transplant a 'marvellous ride'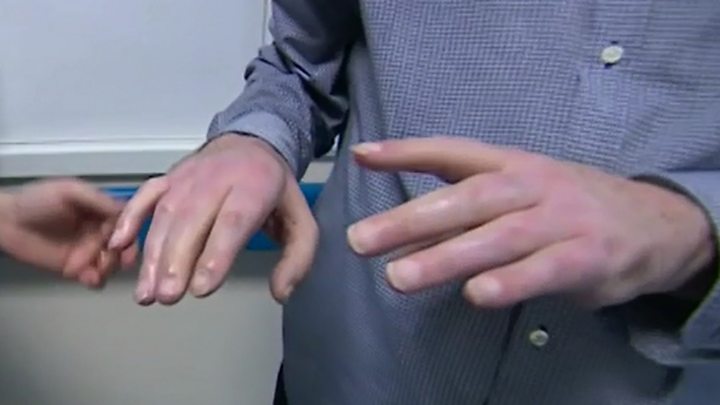 The first person in the UK to have a double hand transplant has spoken about the "marvellous ride" since his ground-breaking operation.
Chris King, 58, of Doncaster, lost both hands, except his thumbs, in an accident at work five years ago.
He had the complex operation at Leeds General Infirmary (LGI) in July 2016.
Mr King said he had "never looked back" since the operation as he returned to thank the hospital's staff to coincide with the NHS's 70th anniversary.
Despite knowing very little about who decided to donate his new hands, he said "I don't want to let the donor family down".
Mr King was the second person to have a hand transplant but the first to have both hands replaced.
On his return to hospital he said: "It's just been a marvellous ride, like a rollercoaster, you get good days and bad days but the bad days have gone now."
The range of movement in his hands is "around 90%" and the movement he was able to make after the operation had been quicker than he thought it would have been.
Mr King said he could sense hot and cold through his hands but does not have more feeling.
He can now pick up a bag of sugar, button a shirt and "it makes shaving a lot more usual".
"I've battered them a few times but they're marvellous", he said.
Prof Simon Kay, the consultant plastic surgeon who led the operation, was described as "a star" by Mr King who also praised the "big team behind him".
Geraldine McCormack, a ward manager at LGI, said "It was such a privilege to be involved in pioneering surgery like this, no words can describe it you've got to be involved with it.
"It's what the job is all about when you see successes like this, that has changed somebody's life for better."