Moorland blazes 'stretching' UK fire crews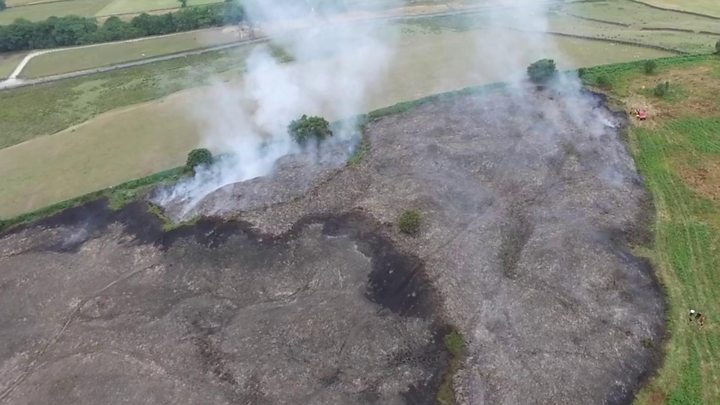 A firefighter helping to tackle a large moorland fire says crews in the UK are "becoming stretched" because of the number of similar blazes.
Martyn Hughes commented on social media after more than 50 firefighters were called in "extreme heat" to a blaze in West Yorkshire on Sunday.
About 35 firefighters are still at Catstones Moor in Cullingworth.
They are dealing with pockets of fire that are still flaring up, said West Yorkshire Fire and Rescue Service.
Crews worked in "extreme heat conditions" and at the height of the fire 12 fire engines and a police helicopter were involved, it said.
Crews had been at the scene, south of Keighley, for most of the day, the fire service said.
Conditions have improved as it has become cooler and the wind has dropped, it added.
Ben Bush, incident commander, said: "Firefighters are extinguishing pockets of fire as they appear.
"There was a lot of smoke coming off the moorland."
The service said it had had a "busy few days with numerous call-outs" to grass fires.
Dave Walton, deputy chief fire officer, said: "Firefighters have worked hard to deal with a string of fires during the heatwave."
The service had "coped well" and had rotated crews to ensure West Yorkshire had a good level of cover, he added.
The service was called shortly after 15:00 BST on Sunday and two roads were closed.
Residents are being advised to keep their windows closed.
There have been similar moorland fires in Lancashire, Tameside and Staffordshire recently.
The Winter Hill fire in Lancashire began on the 28 June and has seen an arson investigation launched by police.
Mr Hughes is the watch manager at Skipton Fire Station.
Fire safety advice
Safety tips to help prevent grass, wood and moor fires:
Dispose of cigarettes carefully
Do not leave glass bottles lying around
Do not light BBQs or camp fires on dry grass/moorland
If planning a bonfire or a garden waste fire, consider waiting until the hot spell is over and never light them close to fences, trees or hedges.
Source: North Yorkshire Fire Service