World Cup 2018: Where will you watch the game?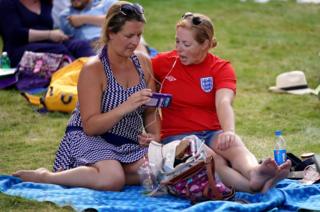 England fans up and down the country gathered on Saturday afternoon to gaze at screens large and small as the football team did more than enough to keep supporters' hopes alive.
Fists were pumped, beer was showered, throats were hoarsened by frenzied cheering - and now loins are being girded for Wednesday, when a victory over Croatia would see England reach only their second ever World Cup Final.
The kick-off is at 1900 BST, the weather is forecast to be sunny and the only thing left to decide is: where will you be watching?
Here are a few ideas from previous matches - and you can use the form at the bottom of the page to let us know about your plans for the semi-final.
Where do you plan to watch England take on Croatia in the semi-final? Share your stories with us. Email England@bbc.co.uk
Please include a contact number if you are willing to speak to a BBC journalist.