World Cup 2018: Where you're watching the England game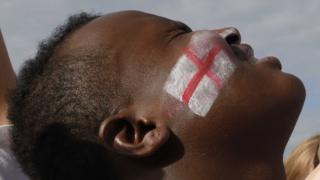 Tonight's the night that could see England into a first World Cup Final since the glory days of 1966.
Whether you plan to get together with a crowd of like-minded mates or want to quietly focus your good vibes on the match alone at home, chances are you've decided where to watch the game against Croatia.
Giant screens are hastily being erected in public spaces across the country, while pubs, bars and fan zones are also going to be busy with white-shirted (or navy-waistcoated) viewers anxiously clutching a pint or two.
Here are some of the places fans will either be shedding tears of joy - or weeping over what nearly was.
A cruise ship
Queen tribute band The Bohemians are currently on cruise ship Navigator of the Seas on their way to Gibraltar.
Lead singer Rob "Freddie Mercury" Comber says the group will be able to watch the first 20 minutes and the final half hour of the game, but they're due to perform throughout the middle.
"If it goes to penalties we'll miss them too, as we'll be due back on stage - so hopefully we won't need them.
"Come on lads - we can have Croatia."
Canada
Tony Newton, who was born in Barnsley, has lived in Canada since 1976. He will be watching the semi-final in a bar in the middle of a prairie.
He says he's been following the Three Lions since the 1982 World Cup and has planned ahead for the game by booking time off work.
"I will be cheering on the lads. It's coming home," he says.
Dave Wharton, another expat in Canada, watches the matches in Ajax, Ontario, by streaming the local sports channel on his laptop while keeping an eye on the BBC Live Text on the desktop computer behind it.
"It's a real treat to read the analysis from familiar figures like Lineker, Shearer, Rio, Waddle, Nevin, Klinsmann, Jenas, Lawro etc. I also love reading the banter, seeing the photos and social media stuff, and the comments from viewers.
"Maybe if I start swimming up the St Lawrence Seaway now, then hop on an ocean liner in Montreal, I could make it to Moscow by Sunday."
Paul Smith will be enjoying the view as well as the game at his home in Nova Scotia.
"I will be in sunny St Margaret's Bay with the best excuse in the world not to stack wood, not to garden, not to mow the grass, not to work on my deck - as a matter of fact not do anything apart from having a beer or two."
Australia
Clive Smith and his family will be getting up at 02:00 in Perth, Western Australia to watch the game against Croatia.
Mr Smith, whose living room displays a clear England supporter streak, says they "can't wait for the next instalment of 'football's coming home".
Another expat now in Australia, Craig Appleton will be watching at home in Victoria - which for him means a midnight kickoff.
"There are lots of very tired, very excited yet very happy English Aussies," Mr Appleton says.
"They are silently and sleepily sidling through their workdays, waiting to watch a genuinely impressive display. This is uncharted territory... even locals and ex-Scots are impressed and want England to win. It's a strange world indeed at the moment."
USA
Pat Gallagher, in Boston, Massachusetts says he will be taking the afternoon off.
"The game kicks off at 2pm Eastern Time in the US. I'm on the lookout for a dark blue waistcoat.
"Growing up in south London, and a lifelong Palace fan, I always knew Gareth [Southgate] was on a path to greatness. A true fighter, and the missed penalty in '96 is a indicator of his drive to pick up and carry on. The other fellas on the squad are doing a pretty good job, too.
And John and Tina Gilmartin, from Balbriggan in Fingal, are due to land at Philadelphia airport five minutes before kickoff - and their next flight, to Scottsdale, is at 20:45 BST, giving them a comfortable hour and 50 minutes to enjoy England's performance.
"Football is coming home," Mr Gilmartin promises.
The golf club
Pete Harris from Leeds has his whole day mapped out.
"After a slog round Cleckheaton golf club in the afternoon, I'll be having a light evening meal and will then settle in the 19th for beers and the best spot for the 52-inch screens. I'm expecting it to be rowdy."
And down the pub - for a double celebration?
Dan Roberts from Truro, Cornwall, says he is simply going to a local pub with two of his best mates.
But he's got a special reason to celebrate.
"I had cancer during the World Cup 2014 (although didn't miss anything there) and again before the Euros 2016.
"I've just had the all-clear and have been cancer-free for two years. The sky's the limit."