Bradley Lowery's mother welcomes cancer drug approval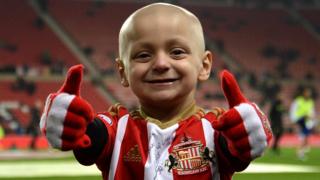 Bradley Lowery's mother has welcomed news a drug used to treat his cancer will be made available on the NHS.
The avid Sunderland fan, from Blackhall Colliery in County Durham, died aged six in July 2017.
He had suffered from neuroblastoma and received dinutuximab beta in a clinical trial, gaining temporary relief.
Gemma Lowery said she was "overjoyed" the drug has now been recommended for use by the National Institute for Health and Care Excellence (Nice).
Evidence suggests dinutuximab beta could increase survival for patients with high-risk neuroblastoma - a rare type of cancer that mainly affects children and young people.
Nice said that while there was "uncertainty around the long-term clinical benefit" of the drug, the "potential survival gain" offered by its use was "substantial".
'Huge step forward'
Nice had previously deemed the drug too expensive to recommend for use, with a course of treatment for a three-year-old costing on average £152,200.
The public body has now reached an agreement with the drug's manufacturer for it to be made available on the NHS at a confidential discounted price.
Mrs Lowery said: "This is a huge step forward in the world of neuroblastoma and takes away so much stress for the families whose children are fighting against it.
"I know first-hand how this drug is a huge benefit to children who have neuroblastoma.
"Bradley became cancer-free after having dinutuximab beta as part of his frontline treatment.
"Making it available on the NHS for children with high-risk neuroblastoma will be a huge relief for parents and will give them hope."
Meindert Boysen, director of the Nice centre for health technology evaluation, said the drug was "an important treatment option for children and young people with high-risk neuroblastoma".