Terror attack police officers honoured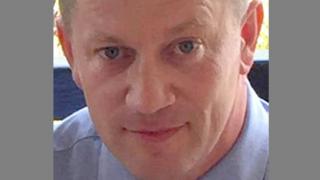 A Metropolitan policeman killed during the Westminster terror attack was among several officers honoured for outstanding bravery.
PC Keith Palmer, 48, was fatally stabbed outside the House of Parliament on 22 March when he confronted attacker Khalid Masood in March 2017.
He was recognised at the Police Bravery Awards held in London on Thursday.
Other winners included officers from Northumbria, Greater Manchester, Norfolk and West Mercia Police forces.
PC Charlie Guenigault shared the evening's top award with PC Palmer after he ran towards three terrorists who attacked the public at London Bridge in June 2017.
PC Guenigault, who had been "relaxing" with friends after finishing a shift, fought off the terrorists with his bare hands who came at him with knives.
He was left in a critical condition after being stabbed repeatedly.
Calum Macleod, chair of the Police Federation of England and Wales, which hosted the awards, said it was a day to "commemorate true heroes".
"PC Keith Palmer paid the ultimate sacrifice for his bravery, but thanks to him many, many more deaths were prevented that day.
"For PC Charlie Guenigault, there was no such thing as 'off duty'. He ran towards a situation that most of us can't even imagine, putting himself in grave danger and thinking only of helping others."
The seven other regional winners announced at the ceremony were:
Greater Manchester Police PC Mohammed Nadeem, who jumped into a fast flowing, icy river to save a man
PC Kimberley Morris, of West Mercia Police, who gave vital first aid to a stabbing victim, while keeping the suspected attacker talking and in view until back up arrived
North Wales Police PCs David Hall and Rhys Rushby, for their actions after they were attacked by a murder suspect with a claw hammer.
Wiltshire Police Insp Ian Stevenson, for pulling a woman off a railway track as a train was approaching.
PCs Gary Sharpe and Victoria Threadgold, of Northumbria Police, for confronting and disarming a man waving a 4ft samurai sword at them and later a handgun.
Norfolk Constabulary PC Frances Peters, who used Pava spray to disarm a man who came at her with a sword in each hand.
Two off-duty police officers from Thames Valley, Sgt Mark Allmond and PC Alex Quigley, for detaining a man who had killed a man in Poundland.