Presenter Richard Bacon 'getting better' after days in coma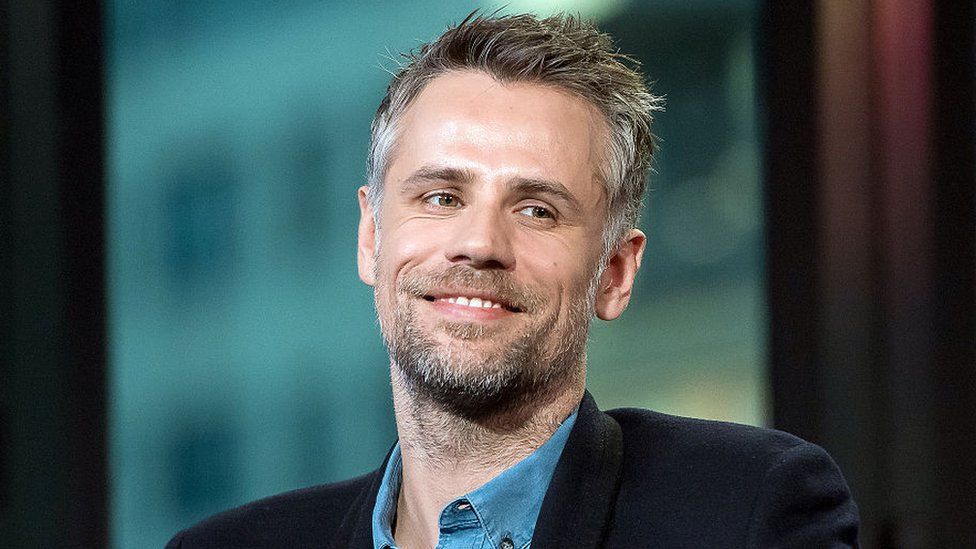 Television and radio presenter Richard Bacon spent days in a medically induced coma after becoming critically ill with suspected pneumonia.
He was taken to hospital eight days ago after becoming unwell on a flight to Britain from the United States.
"Although he is not responding to us very well yet, we can see that he is getting better," she said.
She also said family members had not left his side and that "at one point we really felt we might lose him".
The former Blue Peter and BBC Radio 5 live presenter had initially been well enough to post photos of himself on social media.
But his condition worsened and he had to have a tracheotomy to help him breathe, his sister said.
Bacon, 42, who was born in Mansfield, Nottinghamshire, was placed in the coma after failing to respond to treatment for suspected pneumonia.
He started his career on BBC Radio Nottingham before going on to present on national television and radio including The Big Breakfast, Top of the Pops, BBC Radio 5 live and BBC 6 Music.
Bacon then broke into the US media scene where he has a show on Fox TV. He now lives in Los Angeles.
His sister Juliet Bacon said in her Instagram post she had been visiting him in intensive care for a week.
Radio Nottingham presenter Dean Jackson helped launch Bacon's career by giving him his first job on air and has kept in touch with the family.
"He is being kept in the coma to get more oxygen into his system but they are hoping to reduce the sedative soon, so hopefully there will be good news," he said.
Mr Jackson added that Bacon received treatment during his flight from Los Angeles, then left the plane in a wheelchair and was taken straight to hospital.
After arriving, he was well enough to post the picture congratulating the NHS on its 70th birthday but "went downhill quite rapidly from there", said Mr Jackson.
"It seems there is something wrong with his lungs and he wasn't getting sufficient oxygen into his blood," he added.
On Twitter, his mother thanked people for their "lovely messages".
As many people know, my son @richardpbacon has been in a medically induced coma in intensive care for a week but he's young, he's fit and the NHS have been brilliant, and I'm sure he'll come through this. Been very worrying. We've received so many lovely messages👏

— Christine Bacon (@xtinebacon) July 13, 2018
In March, Bacon spoke to Radio 5 live about his recent diagnosis of ADHD, saying he "wouldn't change it for the world".
A number of people have been sending their well wishes to him on social media including comedian Keith Lemon, radio and television presenter Toby Anstis, television personalities Dick and Dom, and presenter and journalist Jeremy Vine.
Sending magical powers to Richard Bacon x

— Keith Lemon (@lemontwittor) July 12, 2018
Thoughts are with Richard Bacon's family. Awful to see this. Let's hope he's going to be ok.

— Toby Anstis (@tobyanstis) July 12, 2018
All our love and strength to Richard Bacon. X

— Dick and Dom (@dickndom) July 13, 2018
Pneumonia is the swelling of the tissue in one or both lungs, which is usually caused by a bacterial infection.
When a person has pneumonia the tiny sacs at the end of breathing tubes in their lungs become inflamed and fill up with fluid.
In the UK, pneumonia affects about 8 in 1,000 adults each year.