Parents' anger over Build-A-Bear 'pay your age' offer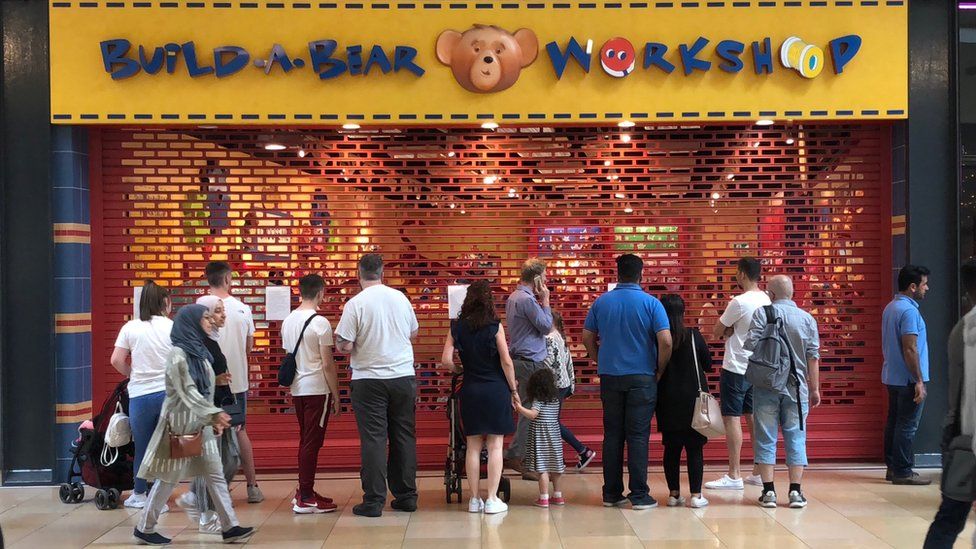 Parents have said they will no longer shop at Build-A-Bear Workshop, after its cheap teddy offer caused queues of up to eight hours.
The toy shop was offering UK customers a chance to buy any bear for the price of their child's age.
Families who tried to take part criticised the "badly handled" event and said their children were left disappointed because of the demand.
The company has issued vouchers to all UK Build-A-Bear Bonus Club members.
Police were called to the White Rose Shopping Centre in Leeds when queues of "about a mile long" formed on Thursday.
Many of the company's stores - including Sheffield's Meadowhall shopping centre, Birmingham's Bullring, Telford and Basingstoke, had to shut following high demand.
Amy-Jayne Crutchley said she got turned away at the Build-A-Bear store in Telford.
She said: "We expected queues of course, but I've never seen anything like it.
"I was annoyed at the poor planning and thought it could have been open to customers online, or time slots booked as the people who did wait had a long wait with fed up children."
Mrs Crutchley said leaving with a £12 voucher instead of a bear left her two-year-old "very upset".
She added: "I'm not sure we will bother going back in future, as I went to another shop and brought my son a teddy."
Samantha Gandon arrived at Telford's shopping centre at 11:00 BST, when she was immediately turned away and offered a voucher for £12 off.
She said: "My son Henry was really disappointed. We had to take him to the Entertainer to get him a bear and promised we would take him back next week."
You may also be interested in:
Ms Gandon, from Shrewsbury, said her neighbour went back at 18:00 and was able to get a bear after queuing for an hour.
"If I didn't have the voucher I wouldn't be going back. They just handled it really badly, it doesn't seem like there was a real apology," she added.
Jenn Harrison, her husband and two children travelled from Leigh to the Arndale Centre in Manchester.
She said they were repeatedly told to go away and come back when the line had reduced by security and Build-A-Bear staff.
"The parents from the back of the queue offered to use our own money to buy a raffle book so we could take a number and go get a coffee or something and come back when it was less busy but they said they can't do that," she added.
"They've given the voucher to everyone, so people that queued up and got the bear could now get the voucher too, so it doesn't feel like we really got anything.
"I don't think I would go back, we went as it was a special experience for the kids."
In a statement, Build-a-Bear Workshop said the response to the event had been "overwhelming".
It added: "We feel it is important to share that, based on the information available to us before the day began, we could not have predicted this reaction to our pay your age day event."
Related Internet Links
The BBC is not responsible for the content of external sites.