Dymchurch smuggling accused 'refused to help boat'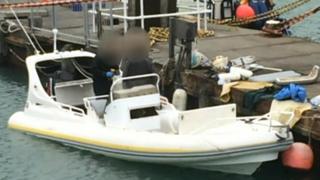 A man accused of being part of a conspiracy to smuggle Albanians across the Channel fled from attempts to save a sinking boat, a court has heard.
Albert Letchford told the Old Bailey he was hired to help pull boats in and out of the water at Dymchurch but did not know what they were being used for.
Eight men from London and Kent deny conspiracy to breach immigration law.
The White Scanner, carrying 18 Albanian migrants, had to be rescued on 28 May 2016 after it began taking on water.
Mr Letchworth's half-brother, Robert Stilwell, and his co-pilot on the White Scanner, Mark Stribling, were convicted two years ago for people smuggling.
Both had pleaded guilty in 2016 to conspiracy to assist unlawful immigration into the UK, the jury has been told.
Mr Letchford told the court he was told to rescue his half-brother who had run out of fuel several miles from the Kent coast.
He said George Powell, who was also due to stand trial, but pleaded guilty to people smuggling before the trial began, told him to "take petrol out to the white boat" using another inflatable, the Antares.
After an argument with Powell, Mr Letchford told him he did not want to go out to sea.
"I've never been on a boat that small in my life. It was that dark. You couldn't see. I wouldn't know where to go," he told the court.
He described "bolting" away to find his wife who had come to pick him up from a nearby car park and denied being involved in launching the Antares.
He said two other friends of Powell then got into the vehicle towing the Antares to the slipway.
Tim Probert-Wood for the prosecution said to Mr Letchford: "But you were part of the team."
"I wasn't," he replied.
The trial continues.
---
The defendants:
Wayne Craig Bath, 38, of Sea Approach, Warden, Sheerness
Sabah Dulaj, 23, of no fixed address
Albert Letchford, 42, of Rochester Road, Gravesend
Leonard Powell, 66, of London Road, Dartford
Alan Viles, 27, of Ash Tree Road, Folkestone
Francis Wade, 59, of Gill Avenue, Wainscott
Alfie Powell, 39, of no fixed address
Arthur Nutaj, 39, Wheatley Gardens, Enfield
---